Extended Reality Will Save Enterprise $13.5 Billion In Training Costs
SuperData says 71% of the companies that are using Virtual Reality are using it for training
SuperData, a Nielsen company (NYSE: NLSN), today released a finding that shows how much companies are expected to save in 2019 thanks to extended reality (XR) training. According to SuperData, enterprises that adopt XR training technology will save $13.5 billion that would otherwise have been spent on traditional training that includes instructors, dedicated learning spaces and traveling to remote facilities.
XR training is based on training simulations that involves virtual, mixed and augmented reality headsets, as well as mobile augmented reality applications. Trainees can learn and practice their new skills in an immersive environment without risking injury or having to temporarily relocate. For example, American Airlines uses VR to help new crew members familiarize themselves with safety procedures before their first day on the job.
According to SuperData, 71% of companies that use VR are using it for training, double the share of virtual showrooms. Walmart, for example, plans to train over one million employees across 4,000 stores using the standalone Oculus Go headset, with the program slated to kick off later in 2019. In addition to retailers, airlines, tourism, oil and gas, and finance industry are also looking to adopt the immersive technology for training purposes.
"Our finding further proves that companies using XR for training are already showing positive returns," said Stephanie Llamas, Head of XR at SuperData, a Nielsen company. "This illustrates the technology's importance to the future of safer and more connected solutions. Organizations that aren't exploring virtual, augmented and mixed reality for training will soon be left behind by their competitors who are."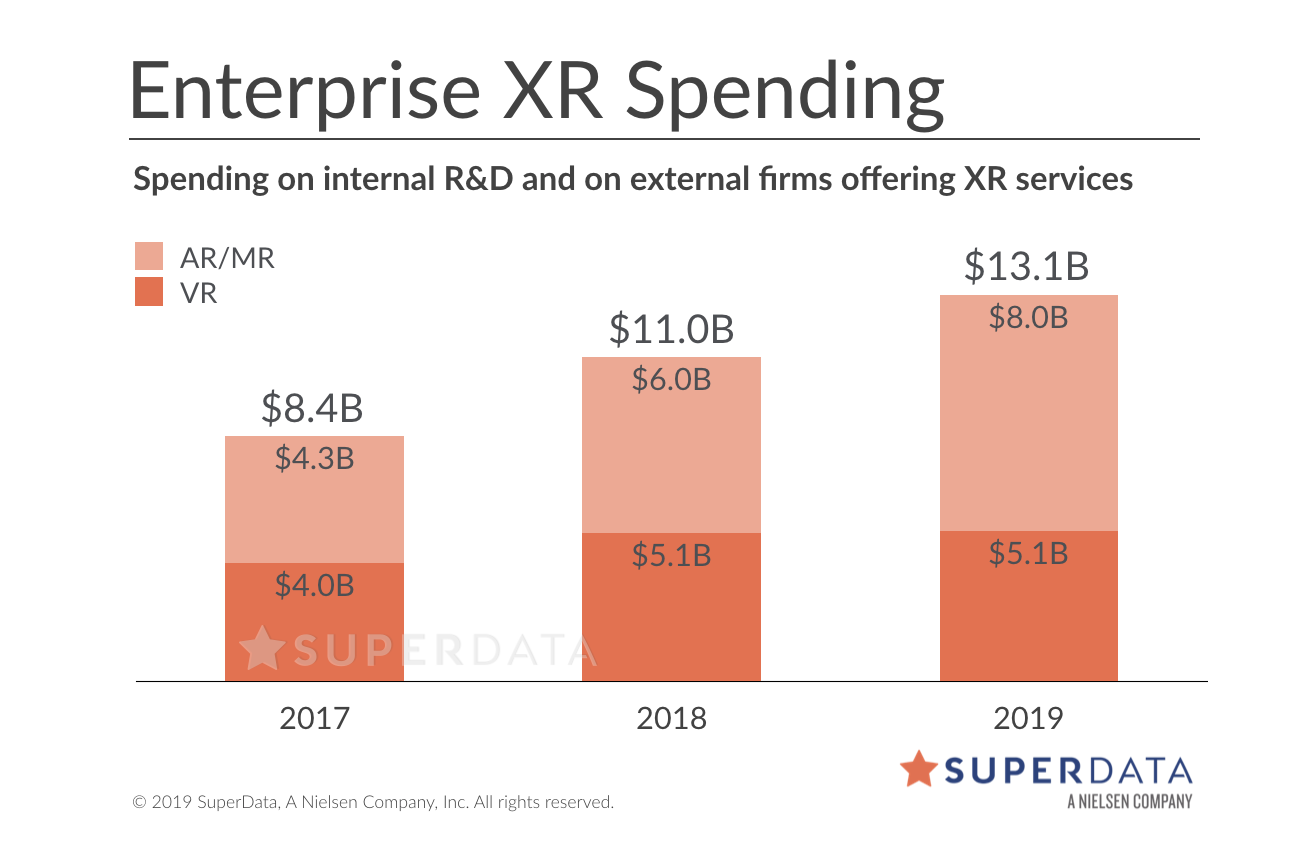 Besides VR training, demands for augmented reality and mixed reality are also rising among companies. In 2019, enterprises will become the biggest client of AR and MR hardware makers, accounting for 85% of AR/MR headsets sold in 2019 and will continue to represent the majority of demand through 2022.
SuperData calculates figures using information from proprietary data sharing partnerships in our XR Data Network, consumer studies, web and search analytics, publicly announced revenue and sales figures, and information from trusted XR industry sources.
Learn more about SuperData's XR research here.
Quelle:
https://www.superdataresearch.com/xr-training/?fbclid=IwAR2MIqx2d-l_kE8ENnlI2zhImxCEE_g15Tr60rz-1mee-SxaKLt4pfgZoig