Dabei ist 3D nicht gleich 3D
In der aufkommenden Diskussion von Metaverse spielen 3D-Objekte und -Welten einen wesentlichen Bestandteil. Diese in die "Hand" nehmen zu können, interaktiv und Kollaborativ zu manipulieren oder durch 3D-Welten gehen zu können bilden hier meist die Basis. Wenn man an 3D im Lern- und Trainingsumfeld denkt, denken viele Personen an vollständige immersive 3D-Welten, die mit Hilfe eines VR Headsets genutzt werden können. Dabei nennt leider noch nicht jeder ein VR Headset sein eigen. Tatsächlich gibt es viele Möglichkeiten, 3D für das Lehren und Lernen zu nutzen, ohne dass die Lernerinnen dafür mehr als nur einen Computer oder Mobile Device benötigen.
Wir müssen unsere Gedanken über 3D erweitern. Hier ist ein Kontinuum von einfachen 3D-Anwendungen, über vollständigen immersiven Umsetzungsszenarien bis hin zu hybriden kollaborativen VR/AR Welten die die Verwendung von VR/AR Headsets beinhalten. Auch spielt 3D in der Darstellung von hybriden Lernwelten und der Erweiterung der realen Welt über Augmented Reality (AR) eine immer wichtigere Rolle. Kollaborative Ansätze in hybriden 3D-Welten und Experience spielen zunehmend in der Diskussion rund um das Thema Metaverse die zentrale Rolle. Schauen wir uns die unterschiedlichen Ausprägungen von 3D einmal genauer an.

Animierte 3D-Objekte…mit denen der Lernende nicht interagieren kann und "nur" passiv anschauen und z.B. am Monitor von allen Seiten anschauen und beobachten kann. Auch können enthaltene Animationen die Funktionsweise so veranschaulichen und verdeutlichen. Dies eignet sich gut, um den Lernenden Konzepte zu erklären, die Folgen /Zusammenhänge von Interaktionen aufzuzeigen z.B. die Interaktion ein es Virus mit einer Zelle. Weiterhin können Lernende die Möglichkeit gegeben werden, an Orte zu reisen, die physisch nicht möglich sind, wie z.B. das Innere eines Gerätes oder des menschlichen Körpers. Die Darstellungsausprägung wird oft verwendet, um die Aufmerksamkeit der Lernenden zu gewinnen.
Interaktive 3D-Objekte…ermöglicht dem Lernenden die Interaktionen mit einem Objekt über die Tastatur/Maus am Monitor. Dies eignet sich, wenn Sie den Lernenden die Merkmale und die Funktionalität eines Produktes, Gerätes, Fahrzeuges oder Prozessablaufes z.B. eines neu auf den Markt gebrachten Rasenmähers näherbringen wollen. Darüber hinaus, wenn ein Gegenstand untersucht und nach Hinweisen untersucht, werden sollen z.B. um festzustellen, ob ein Metallstück unsachgemäß bearbeitet wurde. Auch können Anzeichen eines Versicherungsbetruges gesucht werden, indem der Lernende eine Autodelle aus allen Winkeln anschauen können. Interaktive 3D-Objekte sind sehr gut, wenn ein einzelner Gegenstand z.B. eine Maschine, ein Fahrzeug oder eine Anlage im Mittelpunkt des Trainings steht.
Ein interaktiver 3D-Raum…der Lernende kann in einem begrenzten Raum umhergehen oder auf Gegenstände in einem bestimmten Raum, einem Zimmer oder einem Haus über Tastatur oder Maus interagieren und sich bzw. seinen Avatar bewegen. Der begehbare Raum wird im Browser auf einer 2D-Oberfläche dargestellt. Diese Art des Lernens eignet sich gut, um den Lernenden mit einem Raum oder einer Idee vertraut zu machen, z.B. einem Reinraum oder einem OP-Saal. Sie bietet die Möglichkeit, einen Raum zu erleben, ohne ihn vorher real betreten zu haben. Sie kann verwendet werden, um Mitarbeitenden mit einem Raum wie einem Lagerhaus oder einem Neubau vertraut zu mache, oder sogar mit dem Neubau eines abgebrannten Gebäudes für Versicherungs- oder Brandstiftungsuntersuchungen. Es kann auch veranschaulichen, wie Gegenstände in einem bestimmten Raum passen und dem Lernenden helfen können, die Auswirkungen zu visualisieren, z.B. wie ein intelligentes Smart Home funktionieren könnte. Der interaktive Raum eignet sich auch zur Veranschaulichung von Prozessen und Abläufe. Diese Art von Raum kann auch verwendet werden, um über den Herstellungsprozess in einem Unternehmen zu analysieren und diesen zu optimieren und effizienter zu gestalten.
Eine ganze 3D-Welt am 2D-Display…lässt Lernende virtuelle Welten entdecken und erkunden. Einige aktuelle Beispiele kommen im Umfeld von Metaverse-Systemen daher, Roblox, Sandbox oder Fortnite um nur einige Beispiele zu nennen. Diese Arten von Umgebungen ermöglichen es dem Lernenden, die Welt in der ersten oder dritten Person zu betrachten und im 3D-Raum zu interagieren. Die Lernenden können über Tastatur oder Maus mit Objekten hantieren, gehen oder laufen, wohin sie wollen – innerhalb der Grenzen der virtuellen Welt – und werden durch die Lernerfahrung geführt, anstatt im fremdgesteuert zu werden. Die Lernende agieren in diesen Umgebungen durch eine Figur – dem Avatar – das individuelle persönliche Abbild des jeweiligen Lerners. Diese 3D-Welten werden häufig auch für Simulationen von Sicherheits- und Risikosituationen verwendet. Es werden sogar ganze virtuelle Unternehmen mit Büros, Produktionsstraßen in der Industrie oder Teamprozesse im OP-Saal und die dort ablaufenden Prozesse simuliert. Die 3D-Welten eignen sich ein großes Gebiet, mehrere Häuser, große Hallen oder Industriekomplexe abzubilden und Aktivitäten zu simulieren.
3D in immersiven Welten…erlaubt es, eine völlig immersive Erfahrung in 3D in der virtuellen Realität über ein VR Headset. Die Lernenden setzen ein VR Headset auf und tauchen in den virtuellen Raum ein – dieser Effekt ist auch als Immersion bekannt. Der Lernende hat das Gefühl, sich "physisch" in der virtuellen Welt zu befinden und mir dieser interagieren zu können. Dies geschieht über Controller in den Händen oder über Hand- und Fingertracking über natürliche Gesten. 3D-Objekte in der 3D-immersiven Welt können angefasst, manipuliert und neue 3D-Objekte geschaffen werden. Die Lernenden werden so Teil dieser virtuellen Welt und interagieren nicht durch einen Avatar, sondern sie sind der Avatar. Dies eignet sich, um den Lernenden beizubringen, wie sie ihre Emotionen in Stresssituationen kontrollieren können, wie sie in gefährlichen Situationen auf ihre Umgebung achten und wie sie angemessen auf natürlich vorhandene Reize reagieren können. Äußerst effektiv sind diese, um zu lernen mit Maschinen, Anlagen, Geräte, Fahrzeuge oder in Gebäuden motorische Prozesse mit Hilfsmittel wie Werkzeuge oder Messinstrumente umzugehen und einzusetzen. Auch können so Handgriffe, um Abläufe zu simulieren und so Handlungskompetenz zu erlangen, realisiert werden. Die Nutzung erfordert ein VR Headset und ggf. zusätzliche Hardware je nach Einsatzszenario. Die aktuellen Headsets benötigen keinen Computer oder Kabel mehr, um eine realitätsnahe Erfahrung zu ermöglichen. In der Vergangenheit wurden solche immersive 3D-Welten meist als VR Learning Experience bezeichnet.
Mit 3D die physische Welt erweitern…die physische reale Welt kann über Augmented Reality (AR) und 3D-Objekten-/Hologramme erweitert werden. Hier sind alle bisher genannten Szenarien und Abstufungen abbildbar. In die reale Welt können über Mobile Devices z.B. Smartphone, Tablet oder AR Headset virtuelle 3D-Objekt hineinprojiziert werden und damit die reale Welt erweitert – annotiert und angereichert werden – diese können über Touch auf dem Mobile Device gedreht, vergrößert und manipuliert werden. Auch können die 3D-Daten über die realen Objekte visuell gelegt oder sogar erkannt werden. Die Interaktion bei AR Headsets kann per natürlichen Gestensteuerung ermöglich werden. Die dargestellten Objekte – Hologramme – basieren auf 3D-Objekten und -Daten. Auch können so diese animiert, interaktiv mit Funktionen und weiteren zusätzlichen Informationen benutzbar gemacht werden. Beliebt sind hier z.B. Explosionszeichnung im technischen Umfeld. Auch können u.a. Echtdaten z.B. Messwerte oder Produktionszahlen eingeblendet und kontextsensitive an den realen Objekten angezeigt werden. Die Szenarien helfen u.a. dem Lernenden, sich vorzustellen, wie ein Gegenstand auf einer Werkbank oder in einer Produktionsumgebung aussehen könnte bzw. welchen Daten von Sensor 1 zu Sensor 2 gerade übertragen werden. Auch können Arbeitsanweisungen über- Schritt-für-Schritt -Anleitungen den Arbeitsprozess unetrstützen, um den Lerner durch diese zu führen, wie z.B. den Wechsel eines Filters an einem Motor oder das Auswechseln eines Teils einer Maschine in der Produktionshalle. Dadurch entsteht Prozesssicherheit, Produktionszeiten werden verkürzt und die Qualität steigt bei gleichzeitiger Minimierung von Fehlern.
Kollaboration der Schlüssel zum Erfolg…die bisher benannten 3D-Lösungen basieren auf Experience die meist als einzelner Lerner erlebt werden. Doch durch die vorschreitenden Entwicklungen, sowohl bei der Hardware – aber insbesondere im Software-Umfeld wurden immer mehr kollaborative Lösungen möglich und abbildbar. Also 3D-Welten in denen Lerner nicht allein sind und sein müssen, sondern sich mit anderen Avataren treffen können. Dies können andere Lernende, Experten oder Trainer/Coaches sein. Diese können dann weltweit dezentral verteilt sein und treffen sich gemeinsam in der virtuellen Welt.
Bei 3D-Kollaborative Welten können sich heute bereits Avatare treffen und auf 2D-Displays navigieren lassen. Viele Lernende berichten hier bereits über positive Effekte des Begegnens gegenüber bekannter Videokonferenzsysteme. Insbesondere eine Kombination dieser, wird von vielen als ideale Ergänzung gesehen. Es werden dort Emotionen bis hin zu Empathie aufgebaut und erlebbar. Auch sind einfache Interaktionen über die Tastatur oder Maus mit der 3D-Welt und den anderen Avataren möglich.
In voll immersiven kollaborativen Lern- und Arbeitswelten werden über VR Headset zusätzliche Effekte wie virtuelle Präsenz, räumliche Präsenz und sozial Präsenz erlebbar und deutlich verstärkt. Diese Aspekte generieren tiefgreifende gemeinsame Erlebnisse in der virtuellen Welt und können u.a. für Teamentwicklungsprozesse, Workshops, Trainings, Coachings oder bis sogar systemische Aufstellungsarbeiten genutzt werden. Hierbei spielt auch die Gestaltung der eigenen Avatare eine wichtige Rolle. Die Darstellung von Emotionen und non-verbalen Signale fördern die Erfahrungen und das Eintauchen in eine soziale virtuelle Lern- und Arbeitswelt. Unterschiedliche Avatar-Systeme und Herangehensweisen der visuellen Gestaltung durch unterschiedliche Systeme erschweren das Verständnis und die Wichtigkeit des Abbildes der individuellen Persönlichkeit und die damit verbundene Tragweite. In den voll immsersiven kollaborativen Lern- und Arbeitswelten entstehen neue ethische Fragen und Bedarf einer gemeinsamen Regelung der Verhaltensweisen und das Verständnis auf gemeinsame Wertehaltungen bei den Nutzern.
Auch können in den erweiterten Welten mit AR kollaborative Prozesse genutzt und abgebildet werden. Hier können gemeinsam erweiterte Informationen sichtbar, interaktiv bearbeitbar und veränderbar abgebildet werden. Auch können Experten virtuell zugeschaltet und die Realität des Lernenden mit augmentierten Inhalten erweitert werden – hier sind Ansätze wie Remote Assistance zu nennen.
Die kollaborativen Ansätze ermöglichen das Abbilden neuer Lern- und Arbeitsprozesse, die sogar mehr Erlebnisse schaffen können als die Realität abbilden kann. Dies nennen wir Factorx.
"das" Metaverse – 3D-hybride Lern- und Arbeitswelten…kombinieren alle Ausprägungen von 3D, ob an einem 2D-Monitor, auf einem Mobile Device, auf einem VR Headset oder einer erweiterten realen Welt über AR. Bereits jetzt können 3D-Objekte in verfügbaren und sinnvollen 3D-Experience eingesetzt werden. Hierbei ist der Einsatz in Lern- und Arbeitsprozesse möglich. Wir nennen dies MetaLearning und MetaWorking. Um weitere Effekte und Vorteile zu beschreiben haben wir den Ansatz Factorx entwickelt. Metaverse nutzt und basiert auf Räumlichkeit und damit auf virtuelle und digitalen 3D-Daten. Wichtig ist es, zu verstehen, dass unterschiedliche Ausprägungen von 3D unterschiedlichen Zielsetzungen und sinnvolle Anwendungsfelder ermöglichen und bei der Umsetzung in die Praxis unterstützen. Hierzu bedarf es neuer Skills und Kompetenzen. Bei Metaverse-Ansätze stehen das Wechseln und die Kombination zwischen kollaborative 3D-, voll immersive Welten – mit VR – und erweiterten realen Welten – über AR – im Mittelpunkt. Dies wird u.a. mit dem Begriff der Interoperabilität verbunden. Da die Nutzung mit unterschiedlichen Devices erfolgen kann. Wichtig bei Metaverse, ist, dass die Nutzung kollaborativ stattfindet. Ein Metaverse in dem ich allein bin, ist nicht sinnhaft und erstrebenswert. Also basieren Metaverse-Systeme auf räumliche, soziale und interaktive Welten, in denen sich Menschen treffen und gemeinsam austauschen, Lernen, Arbeiten und Erlebnisse erfahren können. Dabei helfen alle Ausprägungen von 3D!
Schlussfolgerung
Je vertrauter wir mit dem Design, der Entwicklung und dem Einsatz von 3D-Objekten-/Hologramme,-Welten und -Erlebnissen werden, desto mehr Erfahrung sammeln wir, um eine zukünftige Lern- und Arbeitswelt zu entwickeln, zu gestalten und ganzheitlich in Lern- und Arbeitsprozessen zu integrieren. Hierbei spielen neben 3D-Basisskills auch viele weitere Kompetenzen zu den Erfolgsfaktoren von 3D-Anwendungsszenarien eine Rolle.

Diese vermitteln wir Ihnen in einigen upskilling – Angebote
werden Sie "Metaverse Explorer" und tauschen Sie sich regelmäßig aus und erleben gemeinsam technische Lösungen und machen neue Erfahrungen
lassen Sie sich in einer Online-Zertifizierung zum "Metaverse for Learning and Working Architect" befähigen
besuchen Sie das "Bootcamp – Metaverse for Learning and Working" – in Ostfriesland am Meer mit Weitblick und Kreativität entwickeln Sie neue Ideen
erfahren Sie mehr zum "Factorx – more Realities mit VR und AR" und verstehen die Vorteile der immersive Medien
Erste Schritte in Metaverse-Aktivitäten können Sie live miterleben. Anstatt eine 2D-Website steht seit 15.09.2021 unter https://www.torstenfell.space ein begehbares und betretbares Headquarter von Torsten Fell zur Verfügung. Dies kann direkt im Browser, auf einem Cardboard oder einem VR Headset erlebt werden. Aus der virtuellen Welt kann sogar über Augmented Reality (AR) Inhalte direkt zu mir in meine Realität gestellt und als Hologramm erlebt werden. So kann u.a. Torsten Fell auf Ihrem Schreibtisch stehen und Ihnen spannende Inhalte erklären.
Am 02.05.2022 – 18:00 findet im virtuellen Raum eine Vernissage zur Präsentation der Umfrageergebnisse "Immersive Learning 2022 – Insights" statt. Teilnehmen kann man im Browser und über ein VR Headset. Anmeldungen über https://www.immersivelearning.institute/produkt/immersive-learning-insights-dach-region-2022-virtuelle-vernissage/
Lassen Sie uns also den Factorx in Lern- und Arbeitserlebnis generieren und gestalten Sie aktiv unsere Zukunft über 3D mit.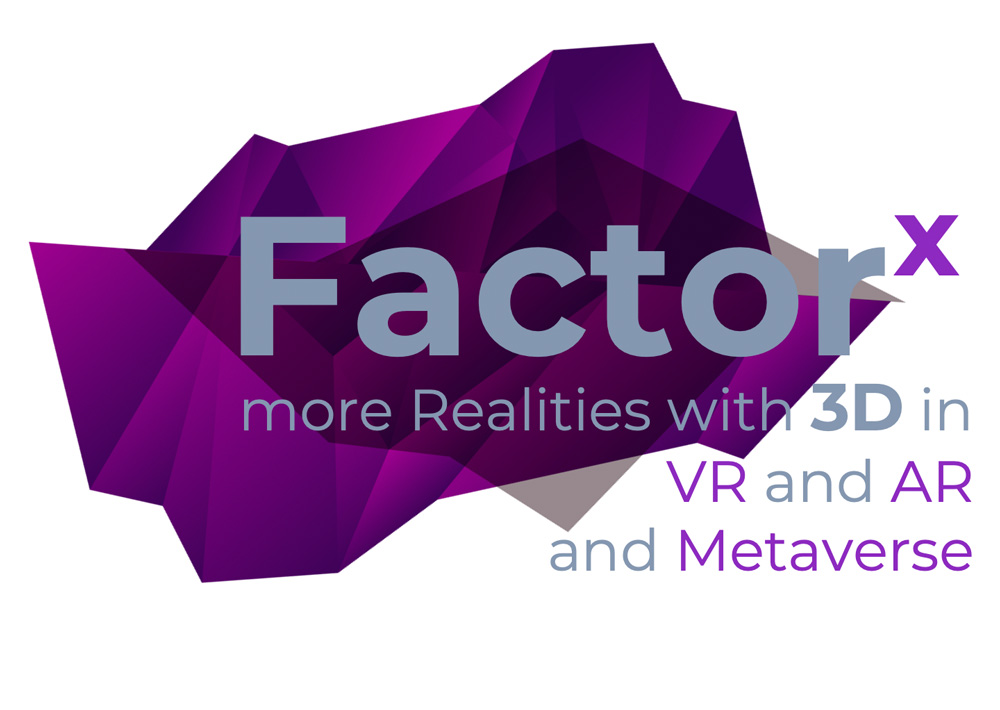 Autor
Torsten Fell