Industrial metaverse doesn't exist yet, but many of its building blocks do, report says
Despite market skepticism about the much-hyped "industrial metaverse," that platform has been steadily evolving in recent months, thanks to advances in the underlying technological components that power it, a report from the analyst firm Forrester says.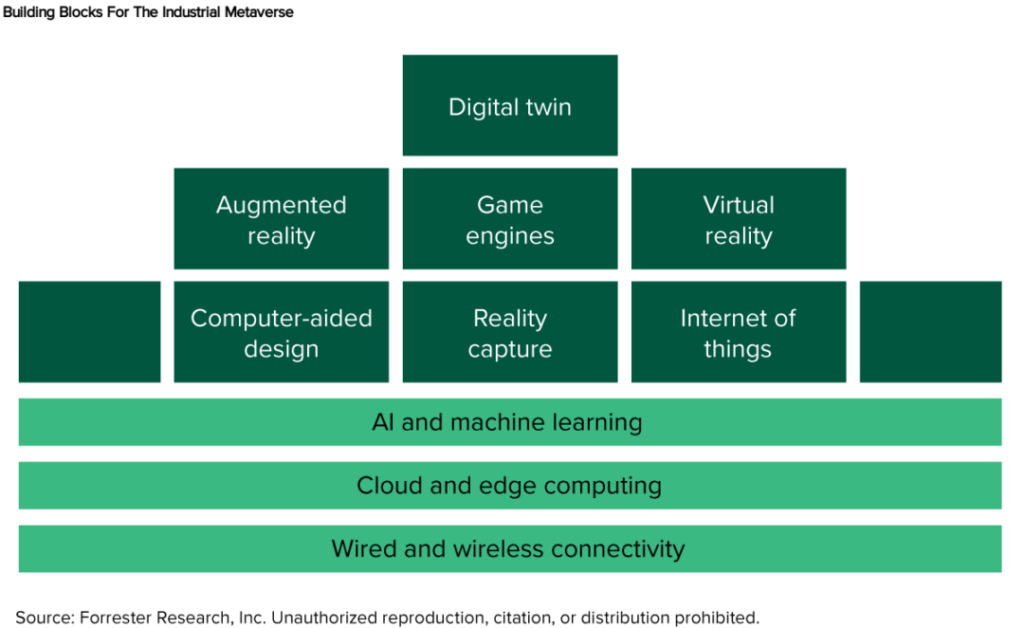 According to Forrester, the industrial metaverse doesn't exist yet, but many of its building blocks do — and they already connect physical and digital experiences to deliver value in asset-intensive industries like manufacturing, the firm said in its report, "The Industrial Metaverse: Ignore The Hype And Focus On Technologies That Make A Difference."
Defined by the firm as the three-dimensional (3D) experience layer of the Internet, the metaverse is built on blocks like the digital twin, which is a virtual model of a system or network. Digital twin technologies already exist in common commercial form and can be found in deployments throughout supply chains, distribution centers, and demand forecasts.
Likewise, a handful of additional technologies that could support metaverse applications already exist in proven form, such as augmented reality (AR), virtual reality (VR), the Internet of Things (IoT), computer-aided design (CAD), and reality capture (digital scanning).
Another example of a contributing technology behind the metaverse is wearable computing devices such as AR/VR headsets, whose reputation as gimmicky fads have prompted some of the buzzword fatigue surrounding early metaverse hype.
In Forrester's view, each of those technologies delivers value on its own, but they have the potential to deliver even more value when combined together. For example, AR can be a good way to get up-to-date IoT data to a service technician out in the field, and reality capture is a good way to scan diagrams and photographs to create a digital twin.
For years, such use-cases have paired only a couple of these technologies at once. But as applications get more complex, combinations of a growing number of individual technologies will be able to create a powerful recipe when mixed together.
Quelle:
https://www.dcvelocity.com/articles/58406-forrester-metaverse-components-already-exist-today?utm_campaign=Industrial%20VR/AR%20Forum%20Content&utm_content=263664693&utm_medium=social&utm_source=linkedin&hss_channel=lcp-11808249