Auf der diesjährigen LEARNTEC werden die "Immersiven Medien" zum dritten Mal auf dem AR/VR-Forum thematisiert und erlebbar gemacht. Hier berichten in 36 Impulsen Praxisprojekte, Anbieter und Hochschulen über den konkreten Einsatz von VR und AR in ihrem Umfeld. Dabei werden aus unterschiedlichen Branchen und Organisationen, tolle Praxisprojekte und Lösungen vorgestellt. Die konkreten Use-Cases zeigen den Businessnutzen auf und machen klar, dass der Einsatz mit VR und AR einen Effekt in die Lern- und Arbeitsprozesse generieren kann.
Allein 19 Aussteller machen Software und Hardware-Lösungen erfahrbar und bieten Experience und Solution-Lösungen an. Egal ob Lösungen gesucht werden, um technische Skills, methodische Skills oder Soft Skills vermittelt werden sollen – für ganz unterschiedliche Herausforderungen sind Vor-Ort. Die Kompetenz und Expertise der Anbieter überzeugen. Sowohl Standard-Lerninhalte oder individuelle Projekte werden an den Ständen gezeigt und erläutert. Wer selber Lerninhalte erstellen will, kann mit Autorensysteme dies tun, auch hierzu gibt es Anbieter.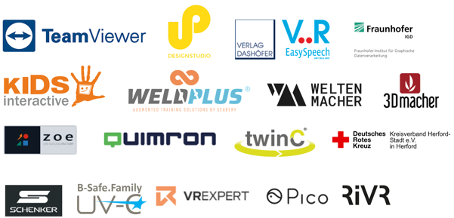 Auf einer Erlebnisfläche probieren sie neue und innovative Lösungen aus und können eindrücklich die Reichweite und Wirkungsweise der immersiven Medien live erleben und in virtuelle Welten eintauchen.
Damit jeder die Chance hat, einmal zu Hause die Möglichkeiten von VR zu entdecken, wird jeden Tag eine VR-Headset der Firma PICO verlost. Nehmen Sie am Gewinnspiel.
Die tägliche Guided Tour´s sind bereits vor Ostern ausgebucht. Hier werden rund 80…90 Teilnehmende über die Anbieter im AR/VR-Forum geführt und bekommen einen komprimierten Eindruck der Kompetenzen.
Lernen und Arbeiten in der Zukunft – Virtuelle Treffen mit und in VR
In den letzten Jahren wurden immer mehr Lernprojekte mit immersiven Lernmedien ergänzt und angereichert. Diese bildeten einzelne Lerninhalte interaktiv ab. Nicht zuletzt durch die Pandemie haben Kollaborative Formate an Bedeutung gewonnen – auch bei VR und AR. Das zusammen Lernen und auch Arbeiten in virtuellen Spaces wird zunehmend einfacher und ermöglicht zusätzlich zur räumlichen Darstellung und Interaktion der Lerninhalte, die Soziale Präsenz im virtuellen Raum. Auf der diesjährigen LEARNTEC wird das Thema an verschiedenen Stellen diskutiert. Freuen Sie sich auf neue Chancen und Umsetzugnen die Lernprozesse zu gestalten und den nächsten Schritt in die Zukunft gehen zu können.
Metaverse for Learning and Working
100.000 Avatare in China gemeinsam im virtuellen Raum, 60.000 VR-Brillen bei Accenture in Lern- und Arbeitsprozessen, zwölf Universitäten in den USA arbeiten an einer gemeinsamen hybriden Lernwelt.
Dies und viele andere Aktivitäten spielen sich gerade weltweit zum Thema "Metaverse" mit dem Schwerpunkt Learning and Working ab.
Weitere ganz aktuelle Beispiele sind: BMW, die ihre Fabrikplanung in die virtuelle Welt holt oder die ERGO Academy, die das Sales-Training im Metaverse abbildet und ihre Trainings ergänzt.
Wir werden das Thema Metaverse auch in verschiedenen Vorträgen, Diskussionsrunden und Praxisbeispiele sehen und erläutert bekommen.
Dienstag 31.05. – Halle 2 AR/VR-Forum
12:00 – Fit4VR? – 4 Personen – 4 Szenarien – 1 Blender für unendliche Möglichkeiten. Bereit für eine neue Stufe des Lernens?
14:30 – Diskussionsrunde: Immersive Leaerning Podcast – Live-Aufnahme . Metaverse for Learning – wie Lernen im 21. Jahrhundert neu gedacht werden muss.
Mittwoch 01.06. – Halle 2 AR/VR-Forum
09:30 – Das Learning-Metaverse – Lernen im 21.Jahrhundert
12:00 – WIS VR ToolBox – ein Einblick in das VR Netzwerk der Würth Gruppe und weit darüber hinaus
16:10 – VR Collaboration – Wie Lern-Environments in VR entstehen?
Donnerstag 02.06. – Halle 2 AR/VR-Forum
10:00 – Multi-User VR-Training: Kommunikation und Teamwork in der Notfallmedizin
14:30 – AR gestütztes Schweißen in der Metallausbildung – Neuste Entwicklungen & Best Practice-Beispiele
Diese zeigen vielfältige Einsatzszenarien mit VR und AR – dies natürlich Kollaborativ und Praxisorientiert.
Wer "Metaverse – neue Visionen einer virtuellen Lern – und Arbeitswelt" erleben und verstehen will, bei der die Kollaboration in einer Räumlichkeit – ob reale oder virtuell – mit anderen Personen stattfindet – kommt in Halle 2 auf die LEARNTEC 2022 zum AR/VR-Forum.