Everyone is talking about VR Collaboration, in very different industries and fields of application, more and more people are thinking about doing more than Online-Video-Conferencing. Why – there are no interaction options e.g. Presenting or explaining products interactively and in 3D, developing new products together and in a form that enables the first prototypes to be created quickly and efficiently. The feeling of closeness and presence in a "virtual" space also helps to reduce Isolation and Social Distancing.
What is currently noticeable is an almost inflationary development of VR Collaboration tools and solution providers. The mapping of the "real" world and the current effectiveness usually play the most important role. Specialist solutions for certain areas of application are increasingly being trained. In addition, solutions are brought onto the market that should cover the widest possible field of application. In addition to the business solutions, pure SocialVR solutions come onto the market that simply represent the meeting of friends and the experience of events such as virtual parties.
This variety of solutions and possibilities is usually difficult to assess. The bridging technology 3D worlds on one monitor also makes it difficult for newcomers to keep an overview. The latter is a challenge anyway, that in some cases the providers of 3D worlds call the solutions VR without owning or offering a Multi-User-VR-Solution. This is where the real VR Collaboration solutions are watered down.
The entire range of VR Collaboration tools is also currently visible in the area of ​​avatar design. From very abstract avatars and robots to avatars based on real images, everything can be seen here. With and without a torso, with and without legs etc. Amazingly, almost all platforms, no matter what the avatars look like, achieve a quick spatial perception of the other person and their own presence in the room. Not really surprising, considering that immersion is the key point here. Handing, hugs or "clapping" all no problem in the virtual world. Of course, these solutions also bring new challenges. Who has the required hardware today, what do rules of conduct and measures look like? Ethical questions force clear regulations and solutions – also of a technical nature – to be made here.
Nevertheless, VR Collaboration offers a wide range of added value compared to video conferences and meetings. Only the providers of the solutions would finally have to concentrate on the added value and not the mapping of the real world and create solutions in which the X-offers more than the real world.
I am happy to help you find ideas.
To get an overview of the existing solutions and areas of application, I published an overview weeks ago. A new version is currently available. Have fun with the overview and try it out.
by Torsten Fell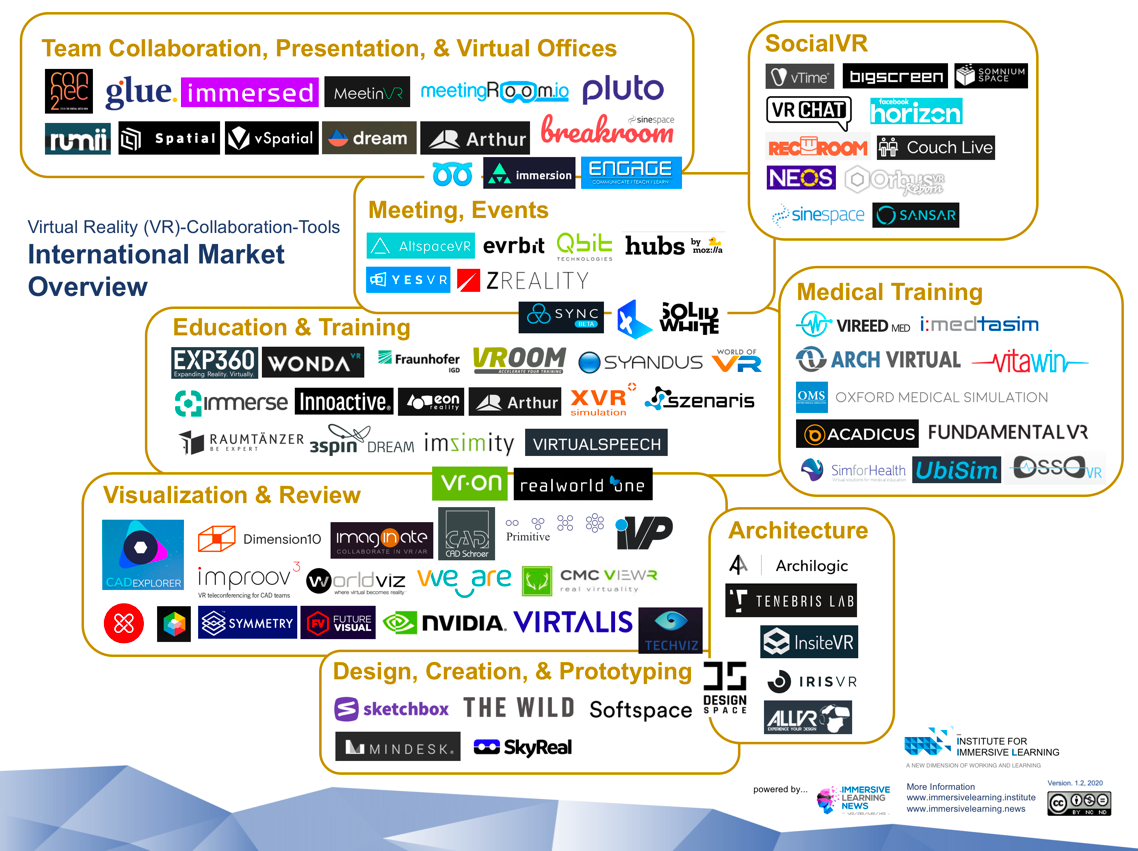 Find more Information…