HaptX Inc., a provider of lifelike touch feedback technology, has today announced a Memorandum of Understanding (MOU) with Consolidated Nuclear Security (CNS), an american federal contractor that operates U.S. nuclear weapons related facilities, to collaboratively advance virtual reality (VR) technology and speed its use to support U.S. Government training missions. HaptX co-founder, Professor Robert Crockett made the announcement in a presentation to U.S. government representatives at the Augmented and Virtual Reality Policy Conference.
CNS manages and operates the Y-12 National Security Complex located in Oak Ridge, Tennessee, and the Pantex Plant, located in Amarillo, Texas, for the U.S. National Nuclear Security Administration. Y-12 was built as part of the Manhattan Project for the purpose of enriching uranium for the first atomic bombs, and is considered the birthplace of the atomic bomb. In the years following World War II, it has been operated as a manufacturing facility for nuclear weapons components and related defense purposes (view source).
The newly constructed Oak Ridge Enhanced Technology and Training Center (ORETTC) in Tennessee trains those responsible for safeguarding nuclear and radioactive material in the U.S., as well as first responders and other experts in nuclear operations, safeguards, cyber, and emergency response. ORETTC is leading Y-12's efforts in augmented (AR), virtual (VR), and extended reality (XR), according to HaptX.
As a result of the MOU, Y-12 is integrating HaptX Gloves to enhance the sense of immersion in VR training sessions. In addition, HaptX engineers will collaborate with Y-12 staff to support ongoing improvement of virtual training environments and application features. HaptX stated that Y-12 selected its HaptX Gloves in order to enable natural interaction and true-contact haptics, which are vital for enterprise-scale training environments involving complex, precise procedures.
"This collaborative approach brings together government and industry to research AR, VR, and XR technologies that will expand the scope and speed of technology development," said Ashley Stowe, ORETTC director.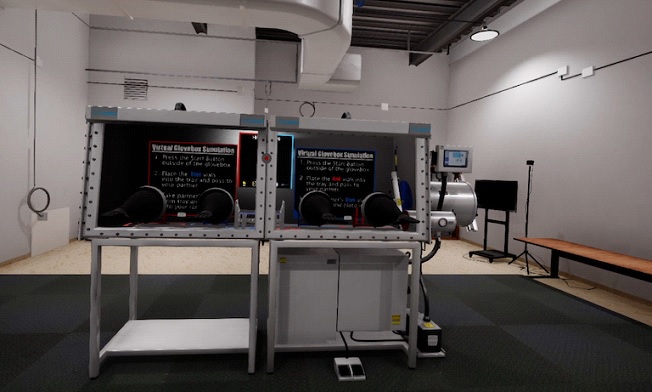 The first collaborative Y-12 HaptX prototype is a virtual glovebox simulator—a first-responder training system that uses haptics to demonstrate high-hazard, low-occurrence response scenarios. The glovebox containment units will allow workers wearing protective, arm-length gloves to manipulate hazardous materials in a controlled environment. Learning glovebox skills and techniques is critically important, and a success factor for training is replicating the realism of the strain without the danger, HaptX stated.
"It has been a truly collaborative journey working with HaptX to develop the glovebox trainer," Stowe added. "Working in a glovebox is not familiar to most new hires. Incorporating the HaptX gloves enhances the training experience to prepare trainees to work with hazardous materials with restricted mobility without introducing the hazard to the trainee.
"This partnership is a game-changer as we build the nuclear workforce of tomorrow," continued Stowe. "The multiuser haptics functionality allows us to train crews of engineers, scientists, and operators to work together to complete manufacturing tasks."
To replicate realistic touch, Y-12 instructional designers implemented the HaptX Gloves DK2 Development Kit. They are among the first to deploy the new multiuser haptics feature in the HaptX Software Development Kit, which allows multiple users to work in the same virtual environment and feel the same objects, regardless of physical location.
"We are proud and inspired to collaborate with Y-12 to develop a safer way to help nuclear engineers and scientists become even more effective in their operations," said Professor Robert Crockett, co-founder of HaptX. "They are taking bold steps toward deploying touch simulation in systems that help build real muscle memory, physical dexterity, and situational awareness."
HaptX will demonstrate the Y-12 glovebox training simulator at today's ARVR Policy Conference in Washington, D.C., and at upcoming exhibitions. To learn more about HaptX and its haptic feedback technology, please visit the company's website.
Quelle:
Image credit: HaptX / ORETTC