Magic Leap has updated its Magic Leap 2 platform with new features designed to to enhance collaboration, immersion, and development within the enterprise sector. Updates include AR Cloud, enabling real-time collaborative access to digital content in physical spaces; a native Web Browser for web content, conferencing, and remote collaboration; improved hand tracking, automatic dynamic dimming for legibility, and enhanced mixed reality capture capabilities. Developers also gain expanded access to sensor data through APIs.
---
Enterprise spatial computing company Magic Leap has announced a series of significant updates to its flagship platform, Magic Leap 2. In a recent blog post, the company announced the introduction of several new features and capabilities on Magic Leap 2 designed to enhance collaboration, immersion, and development within the enterprise sector.
The new capabilities for the device include AR Cloud and a native Web Browser, as well as significant improvements to existing features that make development for the Magic Leap 2 platform easier and increase product performance and functionality, according to the company.
AR Cloud on Magic Leap 2
The introduction of AR Cloud on the Magic Leap 2 enables multiple users to access the same persistent, large-scale digital content integrated with their physical environments, in real-time, according to Magic Leap. Leveraging the device's advanced sensor and camera capabilities, AR Cloud constructs detailed scans and meshes of physical spaces into 'Shared Spaces,' allowing multiple users to interact with the same virtual content irrespective of their geographical locations.
A web-based console allows administrators to create Spaces; manage scans; manage large-scale digital twin deployments; and monitor Magic Leap 2 device access. With AR Cloud, Magic Leap 2 users gain access to unlimited Shared Spaces, allowing them to work anytime, anywhere with anyone. AR Cloud requires a license to the Developer Pro Edition or Enterprise Edition and additional server-side components that the company stated it will provide to customers directly.
Magic Leap 2 Web Browser
Another key enhancement is the unveiling of a native Web Browser for Magic Leap 2, which enables users to access web content, engage in WebRTC video conferencing, share materials through popular platforms like Microsoft Teams and Google Meet, as well as interact with immersive WebXR experiences.
The Web Browser displays sites at a resolution of 1065 x 616px. Downloads are supported and select Magic Leap 2 Apps can be downloaded and installed from the device. Plus, the new Web Browser allows for remote assistance functionality, and enables remote collaboration through the streaming of virtual content and 'See-What-I-See' functionality, according to Magic Leap.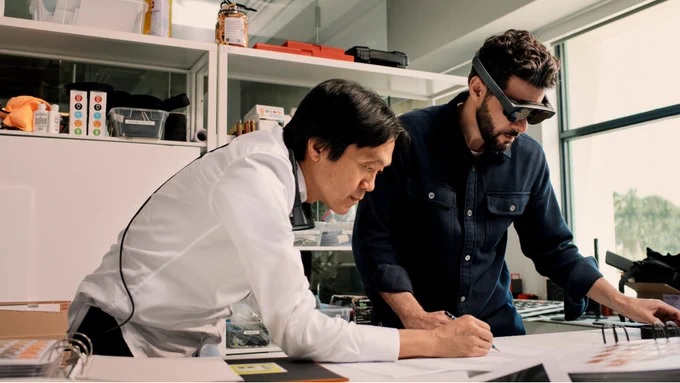 Application Porting with MRTK and Unity
Additionally, Magic Leap is working with Microsoft's open-source Mixed Reality Toolkit (MRTK) software development kit and Unity to make it easier for developers to port applications to Magic Leap 2 or build for multiple devices at the same time.
In the most recent release, the Magic Leap MRTK 2.8 package includes the following updates:
Improved MRTK examples
Exposed handedness values
Supported Microsoft AirTap gesture
Exposed Voice Intent support for Slots
Magic Leap stated that developers port existing MRTK-based applications with just a few adjustments in Unity, and noted that Magic Leap 2 also operates on an Android Open Source Project (AOSP)-based system and is conformant with OpenXR.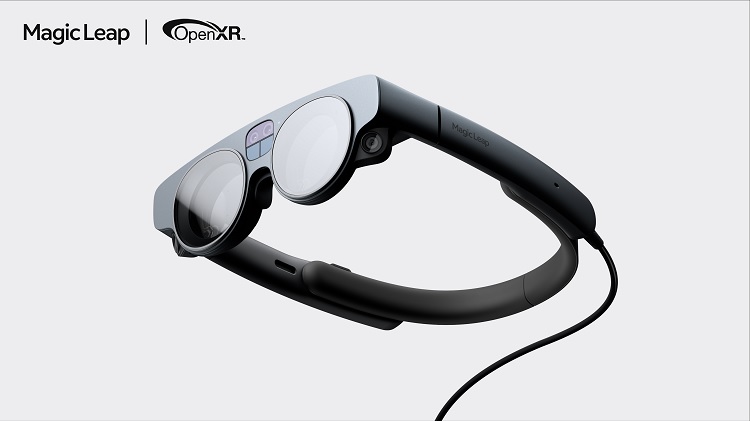 Improved Hand Tracking
Hand tracking capabilities have been enhanced, resulting in a more intuitive and immersive interaction with digital content. As a result, users will experience improved stability, reduced latency, and a new "wrist tap" gesture that makes it easier to open the home menu.
In addition, a limited poking interaction feature will be rolled out in select apps that will allow users to directly interact with content without a controller. Hand tracking will also now be automatically disabled when the controller is active to reduce interference, and improvements have been made to the virtual keyboard and other OS elements to make it easier to select targets.
Automatic Dynamic Dimming
Magic Leap's proprietary Dynamic Dimming technology has also received an upgrade. The addition of automatic adjustments based on ambient light conditions will ensure that digital content remains legible and vibrant in various enterprise environments, ranging from architectural visualization to medical applications.
Mixed Reality Capture on Magic Leap 2
Magic Leap 2 Mixed Reality Capture allows developers and users to take 2D photos and videos that capture an in-device experience, displaying both the real-world view and overlaid digital content. With this latest update, Magic Leap is enhancing Mixed Reality Capture to improve quality of captures, reducing artifacts, and adding new camera control capabilities for aspects such as exposure, bright lighting conditions, background tint, and more.
Developer Access to Sensor Data
Lastly, Magic Leap is expanding developers' access to data from the sensor stack through APIs over the course of multiple releases, while also increasing data transparency. This release provides developers with greater access to a range of sensor data, while also expanding data transparency measures.
According to Magic Leap, developers will now be able to access data from the RGB camera, world cameras, depth sensor, eye cameras, IMU, magnetometers, ambient light sensor, altimeters and microphones in order to build more valuable algorithms and applications.
The company noted that applications that access sensor data must request explicit user acceptance before data is offered through APIs; and when applications require sensors that capture the user's environment, bystanders will be notified through an LED light.
To learn more about these latest developments from Magic Leap, along with the company's augmented reality solutions for the enterprise, click here.
Quelle:
Image credit: Magic Leap