Celebrate all hallows eve with seven AR costumes and three background dancers.
Today, Snap Inc. unveiled a new line of Snapchat Lenses that combine 3D motion capture and multiple neural networks to create over 10 augmented reality costumes powered by 3D full-body tracking.
Available now on iOS and Android devices via the Snapchat app, users can step into the shoes of the classic dancing hotdog, a neon jack-o-lantern, and a cloaked skeleton, just to name a few. In addition to these AR costumes, users can also enlist their own AR backup dancers, such as pair of bandana-clad teddy bears. Each 3D Lens is capable of tracking up to 18 joints on the human body, allowing for more detailed, accurate movements.
Snap has also launched a generous helping of Halloween-themed Lenses, including Bat Surprise, Quivering Horror, and Scary Face just to name a few. Personally, I'm a fan of the Evil Eye Pet Lens, which turns your fluffy companion into a grumpy ghoul.
To access the new Lenses, open up your Snapchat app and tap the camera screen to access the AR bar. From there, select the "Explore" option in the bottom right corner and then "World." Here you'll find each of the full-body tracking Lenses.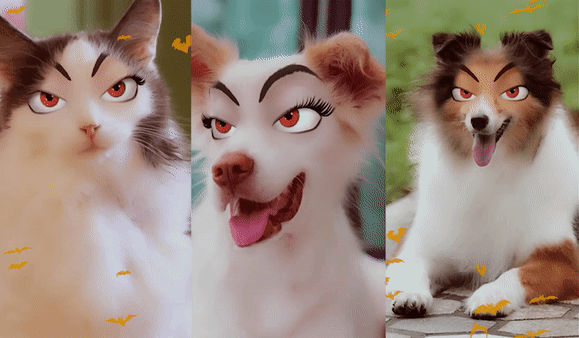 Over the past few months, Snap has introduced a wide range of Lenses, from 2D full-body tracking and sky segmentation to hand tracking and surface tracking, shared worlds, dog and plant scanners, and a variety of other impressive updates to their platform.
The company also recently announced Snapchat integration with Apple's new LiDAR Scanner powered by the iPhone 12, allowing for more realistic AR experiences by generating a "mesh scale" of your environment. Put simply, this helps the device better identify specific objects, surfaces, and geometry.
Snapchat is available on both iOS and Android.
Quelle:
Image Credit: Snap Inc.