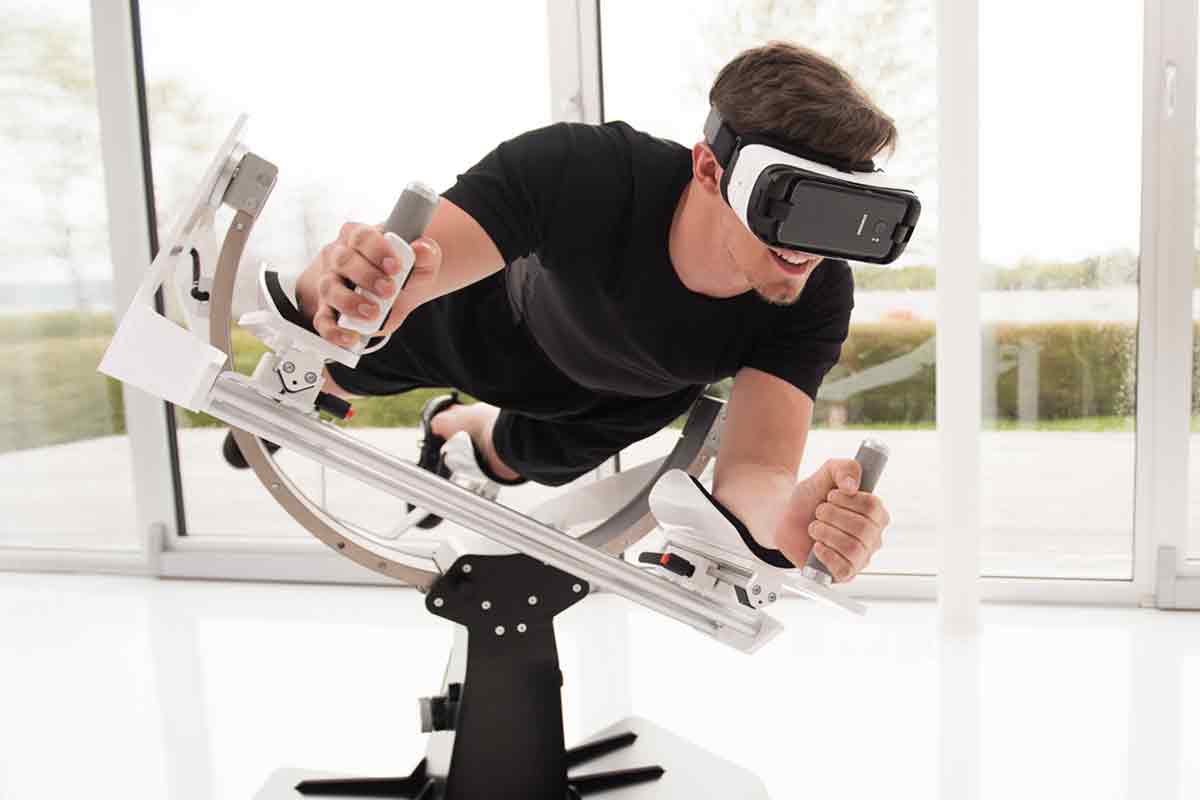 Bisher hatten es Spieler meist bequem und konnten sich mit dem Gamepad in der Hand aufs Sofa pflegeln. HTC Vive beendet dieses Paradigma. Jetzt wird geschwitzt.
Bei den derzeit sommerlichen Temperaturen ist es wirklich keine Freude, eine VR-Brille aufzusetzen. Auch ohne sich groß zu bewegen, fließt der Schweiß schon in Strömen. Der VR-Enthusiast Aaron Stanton wollte es aber ganz genau wissen: Welches VR-Spiel für HTC Vive treibt den Puls besonders weit nach oben und wie viele Kalorien verbrennt er damit? Laut eigenen Angaben hasst Stanton jede Art von Sport, mag aber Spiele. Seit er HTC Vive besitze, hätte er die VR-Brille dafür benutzt, sportliche Aktivität und spielerische Unterhaltung miteinander zu verbinden.
Insgesamt habe er über 48 Stunden in der virtuellen Realität verbracht, 36 davon im Tanz- und Musikspiel Audioshield. Daraus errechnet er einen Durchschnitt von 51 Minuten Sport pro Tag an sieben Tagen die Woche. "Dieses Gaming-System, das niemals fürs Training entworfen wurde, ist mein bestes Trainingsgerät überhaupt", schreibt Stanton. Er nennt das "Augmented Exercise". Um herauszufinden, welches Trainingsspiel besonders viele Kalorien verbrennt, nutzte Stanton einen Brustgurt für die Messung der Herzfrequenz in Kombination mit der App Motifit. Zum Teil setzte Stanton zusätzliche Gewichte ein, die er sich um Brust oder Arme schnallte, um den Trainingseffekt zu steigern. Natürlich sind die Angaben bezüglich Puls und Kalorienverbrauch immer in Relation zum Fitnesszustand und Gewicht des Trainierenden zu sehen.
Virtuelles Schattenboxen ist besonders anstrengend
Klarer Gewinner ist die Boxsimulation "The Thrill of the Fight". Mit zusätzlichen Gewichten um die Brust geschnallt, brachte es Stanton auf eine Herzfrequenz von satten 144 Schlägen pro Minute und circa 850 verbrauchten Kalorien pro Stunde. Das liegt in etwa auf dem Niveau von Läufern, die 60 Minuten lang mit mittlerem Tempo joggen. Dass das Early-Access-Spiel die Fitness wirklich fordert, könnt ihr in unserem Bericht nachlesen.
Als virtueller Legolas in Holopoint konnte Stanton seinen Puls sogar auf fast schon gefährliche 168 Schläge pro Minute hochtreiben und das ohne zusätzliche Gewichte. Ergänzend errechnet er einen Verbrauch von circa 750 Kalorien pro Stunde. Bei Holopoint muss man als Bogenschütze gut zielen, aber auch viel ausweichen und häufig in die Hocke gehen. Wer schon einmal richtig Sport gemacht hat, weiß: Gerade Kniebeugen sind extrem anstrengend.
Auf Platz drei landet das Musik- und Tanzspiel Audioshield, bei dem Stanton seine Herzfrequenz immerhin noch auf 118 Schläge pro Minute steigern konnte bei rund 600 verbrauchten Kalorien pro Stunde. Dieses Ergebnis konnte er aber nur mit zusätzlichen Gewichten an Armen und um die Brust erzielen. Ohne Zusatzgewichte lag der Puls nur bei eher gemächlichen 96 Schlägen pro Minute. Den Kalorienverbrauch pro Stunde beziffert er auf 400 cal.
Hat Training in Virtual Reality eine Zukunft?
Aktuell wird die virtuelle Übungsausführung noch von nervigen Kabeln und unbequemen VR-Brillen behindert, unter denen man lieber nicht schwitzen mag – und sei es nur aus hygienischen Gründen. Mit kabellosen und deutlich leichteren Brillen hat die Verknüpfung von Entertainment und Training aber sicherlich ein enormes Potenzial. Hinzu kommen neue E-Sportarten, die rein virtuell sind, also speziell für Virtual Reality entworfen wurden und bei denen Spieler auch gegeneinander antreten können. Dank neuer Trackingverfahren ergeben sich zusätzliche Steuerungs- und Kontrollmöglichkeiten, um die Trainingsintensität oder die Übungsausführung in Echtzeit auszuwerten und den Trainierenden so optimal zu fordern.
Ein Fitnessstudio in Hamburg setzt bereits ein Virtual-Reality-Trainingsgerät ein. Der VR-Flugsimulator Icaros wird mittels einer hydraulischen Hardware allein über die Körperspannung gesteuert. Die Bewegungen des Fluggeräts sind synchron mit den Bildern in der VR-Brille, so dass man das Gefühl hat, tatsächlich zu fliegen. Das Gerät kann auch für den Heimgebrauch bestellt werden.
Quelle: HTC Vive: Diese drei VR-Games verbrennen die meisten Kalorien