Healthcare training requires a good deal of hands-on practice to gain experience, build confidence and improve muscle memory. Practicing in realistic environments is essential to get accustomed to real-world situations and simulations prove to be the cornerstone of clinical training. Till not very long ago, training with moulages had been the preferred method but now we can witness a change. Training in virtual environments is gradually gaining ground. MedVR Education was set up with the objective to provide quality training opportunities in the form of VR simulations for healthcare professionals.
Why opt for MedVR Education VR Simulations Training
It has now been widely accepted that VR simulation training is highly effective and holds multiple benefits for both learners and trainers. At the same time, it is important to note that not all simulations fulfill this purpose effectively. MedVR Education is building the largest healthcare simulation library covering a wide range of categories. Opting for simulations by MedVR Education offers unparalleled benefits on multiple fronts.
1. Largest healthcare simulation library: In a mere span of three years, MedVR Education has developed the largest healthcare simulation XR library. Its app library is host to a range of simulations with 200 plus procedures, and this is growing dynamically.
2. Range of categories: A quick glance at the MedVR Education clinical simulations will reveal the wide range of categories it caters to. These categories are collection of skills required in essential care, emergency care, perinatal care, pediatric care, critical care, mental health, etc.
3. AI-enabled patients/characters: With MedVR Education integrating AI into its simulations, users can now hold realistic interactions with virtual characters. It's taking simulation training to the next level where learners can practice their conversation skills, a skill much required when the need is to interact with patients and co-workers on a regular basis, in varied circumstances.
Practicing intramuscular injection procedure in VR.
4. RCDP: Rapid Cycle Deliberate Practice (RCDP) is characterized by its focus on deliberate practice, immediate feedback, and rapid cycle iteration. The concept of deliberate practice can be attributed to Dr. K Anders Ericsson and his extensive study of expertise which states that mastery in a skill is not just the result of innate talent, but a consistent and deliberate time spent in training and preparation. RCDP is particularly effective when used in conjunction with virtual reality (VR) simulation training. In VR simulation training, healthcare providers can practice clinical scenarios in a safe and controlled environment, which allows for the rapid cycle iteration and immediate feedback necessary for effective RCDP.
5. Multiplayer: All MedVR Education VR simulations are available in multiplayer mode. This enables participants, both learners and trainers, to join on a common virtual platform from anywhere in world at the same given time and perform as a team. This not only allows the sharing of experiences and knowledge but also helps promote teamwork.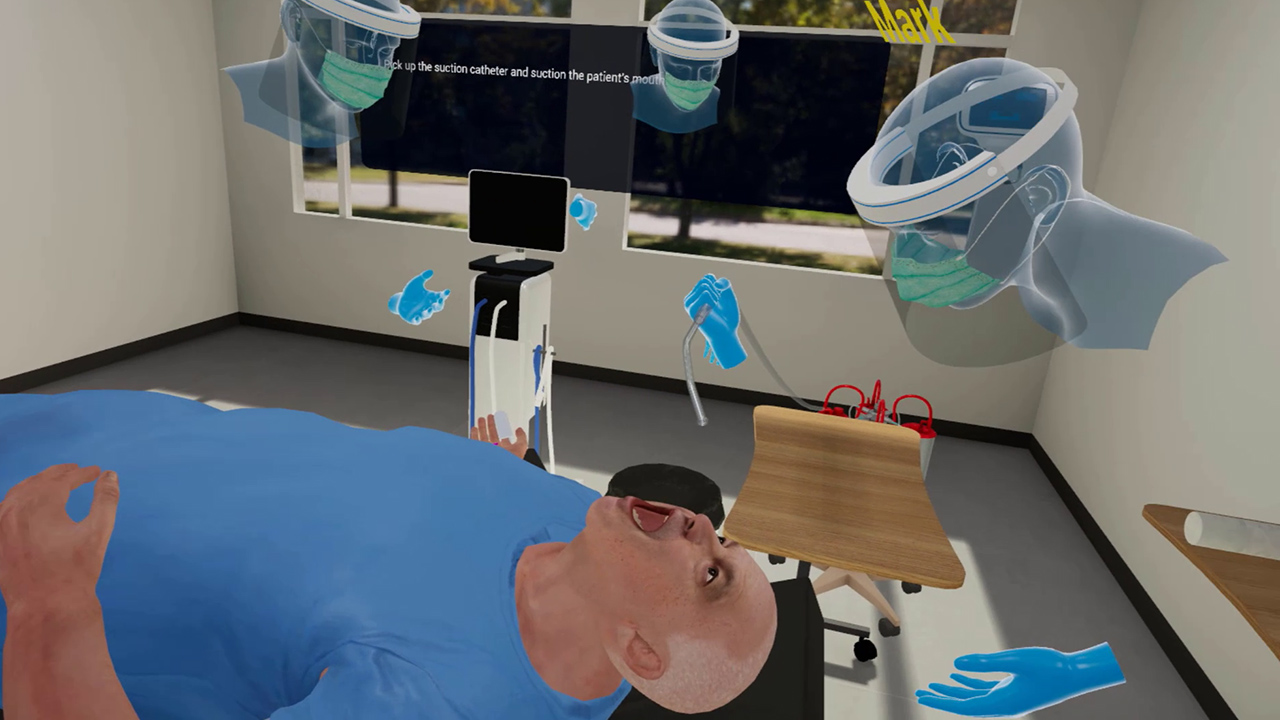 Team of users performing intubation in VR.
6. In-VR Customization: The various customization options available help create unique simulations that are specific to user requirements. Some of the features that can be customized include the patient, the environment, the placement of equipment, configuration of patient vitals, simulation duration, session-end debriefing to name a few.
7. Clinical procedures with training and assessment: MedVR Education offers VR simulations in the form of procedures and open scenarios. Procedures consist of training and assessment modes where learners are first handheld through the procedure with detailed instructions. In the assessment mode, no help is provided, and learners are expected to complete the procedure individually, as they would in a real-world situation.
8. Open scenarios: Open scenarios place learners in realistic situations with a virtual patient. This could be in a healthcare facility set up, an ambulance or at an emergency location. Learners are expected to perform activities like performing a diagnosis and deciding upon the best course of action to be taken. The following debriefing presents an analysis of the learners' performance and helps point out areas that need improvement.
Know more about MedVR Education's open scenarios – VR Open Scenario Assessments for Healthcare Training
9. Data Analytics: This is an effective way to analyze a user's performance; the tasks that the user performs correctly as well as the ones that were missed or performed incorrectly. Session-end debriefing helps learners identify their own strengths and weaknesses, the tasks they need to pay special attention to in order to perform skillfully without any mistakes. Being a virtual environment, learners perform in a safe, controlled and zero-risk environment and an error made here serves more of as a learning with no consequences.
10. Photorealistic: All aspects of MedVR Education's simulation scenarios are created with reference to the real-world. This could be the environment of a healthcare setup, or the equipment used. Each virtual patient is also carefully and minutely created to help learners closely associate with their 'patients'. The inclusion of AI-enabled characters has added to this realism as users are now able to interact with 'patients'.
Scenario set up towards managing a case of pediatric SVT.
11. Unique patient cases: Every patient case in the MedVR Education library is a unique one created in close consultation with qualified and experienced healthcare professionals. The team of subject matter experts (SMEs) includes professionals from different aspects of the healthcare domain, each one bringing with them years of experience and knowledge. This helps create cases which are not only unique but will also be precisely accurate.
12. AI-Humans: This artificial intelligence-based platform empowers virtual humans to interact, act and react like real humans. With technologies like large language model (LLM), natural language processing, machine learning, deep data analysis, and speech recognition, these virtual humans exhibit unparalleled intelligence and accuracy. This platform gives trainers the freedom to create AI-empowered patient scenarios from scratch. It requires no coding knowledge, can be put together within a couple of hours and can be uploaded to any LMS and accessed from a web browser from any location. It is not only highly cost effective but also saves a considerable amount of time.
13. Physics-based interactions: VR simulations are created to mimic real-world environments. This also includes the way in which we interact with objects. Keeping this in mind, all interactions in MedVR Ed simulations are physics-based. Every procedure or scenario requires the user to handle and make use of multiple objects. It could include actions like grasping, lifting, unpacking material, attaching objects, pulling, pushing, and more such actions. With a physics-based approach, these actions in the virtual world replicate the action and effect similar to that in the real-world, thereby enhancing experience and engagement.
14. Remote delivery and OTA: With an internet connection and a VR headset, all it takes to access a MedVR Ed solution is a login id and password. All solutions are delivered to the user headset remotely and require minimal technical knowledge on the part of the user. This overrides the process of side loading, system setup, configurations and installation with the technical team completing the entire installation process at the backend. When new updates are made to solutions, existing users' experiences are taken care of, and all updates are delivered over the air automatically. All that users are required to do is allow the update to be completed before beginning a session.
15. 24/7 tech support: MedVR Ed's responsibility to ensure a smooth and hassle-free experience does not end with a delivery. In fact, it starts from here. A 24X7 tech support is available to address the slightest issues faced by users at any given point of time. Users can reach out over a mail or call tech support for prompt resolutions.
While MedVR Education offers a range of off-the-shelf solutions it also understands that each organization can have its own specific requirements. To meet this goal customized solutions are also created in close consultation with the specific organization and its experts.
Quelle: