Innovators transforming healthcare with XR technologies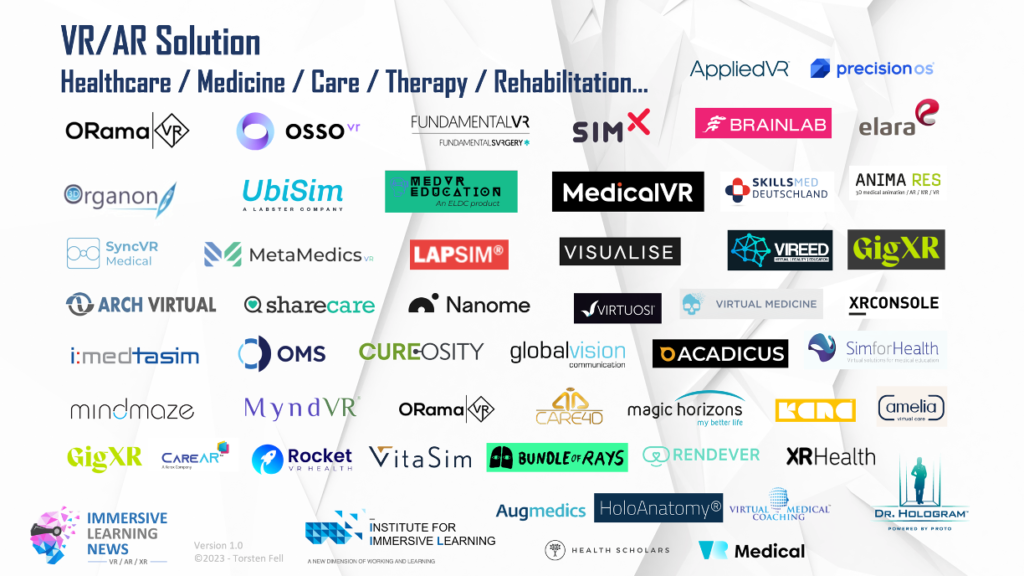 As the age of digital transformation continues to change the world at a phenomenal rate, innovators are constantly discovering new ways to leverage extended reality. Today, immersive solutions can help enhance everything from communication and collaboration, to training initiatives.
In the healthcare space, VR, AR, and MR toolkits are influencing the way new medical professionals develop their skills, support patients, and even reduce risks during surgical procedures. With the right immersive tools, healthcare professionals can deliver more intuitive remote support to patients wherever they are.
These solutions can also accelerate recovery times, and collaborate more effectively with specialists. Today, we're exploring some of the top vendors investing in the XR space, to help build a new future for healthcare.
GigXR
Focusing on the mixed reality ecosystem, GigXR offers immersive and holographic training experiences to specialists in the healthcare space. The Gig Immersive learning platform consists of various holographic applications for education, spanning the full spectrum of healthcare training.
With GigXR, healthcare innovators can replace or augment the use of cadavers, manikins, and simulated patients, transforming the way professionals develop new skills. Teams can leverage simulated holographic patients, clinical scenarios, and more, within a cloud-based environment. Plus, GigXR will also work with healthcare companies in the development of new training resources, and continues to produce new modules on a regular basis.
CareAR
Disruptive technology company, CareAR, concentrates on helping service teams located anywhere in the world with the delivery of remote AR experiences. The company's comprehensive platform of tools, enhanced by AI and machine learning, ensure organizations can build and share immersive experiences, across a range of devices and operating systems.
CareAR customers can leverage the technology offered by the brand to create smart assets in 3D, as well as interactive service experiences. The platform also includes access to a comprehensive reporting and analytics system, for tracking connected insights throughout the user experience. CareAR also offers specialist tools for remote instruction and training purposes.
Rocket VR
Digital Health platform, Rocket VR offers virtual reality therapeutic experiences, specifically focusing on the area of mental health. The company aims to provide users with immersive and engaging experiences designed to improve their mental health and wellbeing. Innovators can access the Rocket VR platform to build their own unique experiences.
The platform has built-in social features for interactions, and offers access to pre-built cognitive therapy games and experiences. There are dozens of different environments available to access within the Rocket VR library, and teams can also personalize their VR experience with the help of the Rocket VR team. The library of therapeutic experiences also includes access to on-demand evidence-based programs for various use cases.
Virtual Medical Coaching
Healthcare training simulation company, Virtual Medical Coaching helps to prepare specialists in the medical field for risky situations in a safe environment. The company builds virtual reality learning experiences, specifically focused on the healthcare field. Through the technology offered by the company, organizations can access flexible, engaging environments which are customizable to suit different simulated situations.
Already, the company offers a library of coaching experiences delivered through virtual reality, for things like radiation safety training, and childbirth. The team is also working on modules covering topics like MRI and CT scanning and mammography.
FundamentalVR
Created by the Fundamental Surgery team, FundamentalVR develops training technology for the medical community. Alongside a host of training resources designed to work on any laptop, VR headset, or device, FundamentalVR also offers solutions compatible with haptic feedback tools. At the heart of the system is the Surgical Haptic Intelligence solution, which is calibrated to mimic the real-life sensations of tissue variants and medical tools.
Companies working with FundamentalVR can choose from a range of tools, including CollaborationVR, a space where teams can connect and share knowledge. There's also the HapticVR system for kinaesthetic experiences, and a StandaloneVR solution for delivering procedural rehearsal situations through a simple device.
Osso VR
The surgical training and assessment platform built by Osso VR provides medical device companies and healthcare experts with ways to share information, train, and practice procedures. The platform solution provides direct access to virtual training experiences, with built-in analytics and reporting tools to help business leaders track performance.
Osso VR offers one of the largest VR surgical training libraries available, and consistently builds new solutions to address a range of use cases in the medical environment. Osso VR works as a preferred partner of Meta, with off-the-shelf technologies which works alongside common training processes and tools. The companies tools have been proven to improve learning and memorization of complex workflows in multiple level 1 trials.
AppliedVR
Focusing on the area of comprehensive prescription virtual reality therapeutics, AppliedVR produces solutions for chronic pain management and recovery in the medical space. The organization applies comprehensive research of VR technology to therapeutic scenarios, serving more than 60,000 patients around the world.
AppliedVR is responsible for developing RelieVRx (formerly EaseVRx), one of the only FDA-authorized immersive virtual reality tools designed for chronic pain treatment. The solution has been clinically proven to reduce pain interference and severity for patients suffering from chronic lower back pain. The company is also working on a variety of other tools for the medical sector.
Augmedics
Augmented reality surgical navigation company, Augmedics, builds tools designed to improve surgery outcomes with immersive technologies. The brand produces custom-made solutions for the medical industry, featuring wireless connectivity and 3D anatomy visualization. At the heart of the Augmedics portfolio is the XVISION system, which features comprehensive surgeon control, wearable guidance technology, and customizable content.
The brand's technology is specifically intended to assist with the intelligent placement of crucial components in spinal surgery. The system aims to provide surgeons and innovators in the medical field with an "X-Ray" vision of the spine, to help enable accurate navigation and enhanced control.
Virti
Immersive learning platform vendor Virti builds experiences to enhance education and training in the medical and enterprise environment. For medical companies, Virti offers an immersive HCP training solution, built to help pioneers deliver better development opportunities to healthcare students. The solutions are built by simulation experts, to improve healthcare safety and patient care. 
Virti's solutions can also be leveraged for various forms of workplace training, teaching specialists critical soft skills, and streamlining the onboarding process. Users can build their own experiences using the Virti student, or access a library of pre-built experiences. Plus, there's support for interactive video, virtual human creation and more.
HoloAnatomy
Created by the Case Western University team alongside Microsoft HoloLens and the Cleveland Clinic, HoloAnatomy is a VR training solution. The mixed-reality offering was launched in 2019, and has delivered demonstratable results since. 81% of students said learning sessions using HoloAnatomy were either as good as or better than in-person lessons.
The HoloAnatomy offering comes with access to a comprehensive pre-built asset library, consisting of more than 8000 resources for building presentations and training sessions. Users can select and label every part of the human anatomy within the platform, and leverage multi-user interactive sessions with built-in collaborative tools.
Born Studios
VR developers, Born Studios produces numerous virtual solutions built to address everyday problems and scenarios. The VR and AR design studio can work with healthcare companies to produce projects from scratch, assisting with idea formulation, concept creation, and launch processes. The company has access to the Horizon Worlds space, as well as metaverse training solutions.
One of the solutions developed by Born Studios for the healthcare industry is the Forest of Resilience application. This app supports healthcare providers in the delivery of therapeutic experience for mental health, teaching patients strategies for guided breathing and emotional resilience. The solution was premiered at the MIT EmTech Next 2022 event.
Fresenius Medical Care
Providing guidance and support to patients with renal diseases, Fresenius Medical Care is a German-American healthcare company investing in the age of XR. The company produces a range of therapies and service solutions for healthcare professionals, including VR training tools.
The Stay Safe training system supports both medical professionals and patients at the same time, providing access to a digital environment where individuals can learn skills for handling chronic illnesses and disease recovery. There are various language options available, and the standalone system is available to use anywhere, with no installation required.
Ghost Productions
Medical animation company, Ghost Productions, assists professional teams with the creation of virtual and digital assets for training and patient service. The company's team of animation experts can work alongside companies on the development of new 3D solutions for educating and supporting medical specialists. At the heart of the company's toolkit for healthcare organizations is its selection of surgical VR simulations.
These uniquely developed programs are adaptable to a range of medical concepts, and companies can hire the organization to develop new solutions from scratch. With company even offers its own Wraith VR surgical demonstration kit, which includes access to a VR device, which can leverage software from Quest 2 and Steam libraries.
PrecisionOS Technology
PrecisionOS produces modular training solutions designed to assist medical professionals in developing their healthcare skills. The company utilizes accurate simulations of various surgical environments, to ensure specialists can develop the muscle memory and knowledge they need to offer exceptional patient care.
The medical-grade learning platform authentically recreates experiences in a high-fidelity environment, with solutions that can be adapted to different use cases. PrecisionOS can also work alongside medical device companies to help them augment the bioskills training given to teams with virtual reality. PrecisionOS programs are scalable, and come with built-in educational performance analytics and reporting tools.
Rendever
Focusing on senior care, Rendever is a technology company experimenting with the power of virtual reality, and its ability to reduce feelings of isolation. The complete kit of customizable therapy tools offered by Rendever allow senior care providers to build unique experiences within the immersive landscapes, to help improve memory and information retention.
Rendever also creates social-first, fully synchronized virtual experiences, to assist seniors in reconnecting with other people and forming new friendships. Because the platform was built with seniors in mind, it's intended to be easy-to-use and straightforward. Plus, companies can access new experiences regularly with assistance from live programming experts.
SimX
VR medical training company, SimX, builds educational experiences for medical professionals, enhanced by extended reality. The patented technology allows students, instructors, and patients to interact in real-time. Plus, the virtual reality team can work alongside professionals in the healthcare landscape to create custom simulations for specific needs.
The SimX platform and training tools are compatible with a range of headsets and devices, and allow companies to set up training environments within as little as five minutes. Users can take advantage of multiplayer experiences, and unlock behind-the-scenes insights using reporting and analytics tools built into the platform.
VR Medical
Made by 3D for Science, the VR Medical ecosystem allows users to dive into an immersive world where they can access a range of training simulations. The company's library of virtual experiences includes training solutions for medical processes, as well as patient care and support. 3D for Science can also work alongside healthcare companies to create unique virtual reality experiences and apps to replicate specific environments.
The team at 3D for Science supports businesses in the healthcare space with animation, illustration, and web design processes, as well as the development of augmented and virtual reality experiences. Teams can create their own interactive applications from scratch, or access a library of existing tools across a variety of headsets and digital devices.
Health Scholars
The Health Scholars team produces training experiences in virtual reality for a variety of different use cases. Built on evidence-based protocols, these development and learning scenarios help to minimize readmission and medical error. Solutions include an advanced cardiac live support product, which realistically models cardiac arrest scenarios.
Companies can also access stroke assessment tools, showing team members how to assess patients and score them using the NIH stroke scale. Plus, there are specific toolkits for paediatric emergency care and emergency assessment available to access too. The VR training experiences are quick and easy to schedule from anywhere with a Wi-Fi connection.