Soft skills don't come naturally to everyone, so companies like Bodyswaps are using AI, VR, and behavioral science to develop immersive modules for soft skills training. Through unscripted intervention that places users in realistic workplace situations, Bodyswaps' platform helps to improve soft skills such as emotional intelligence, empathy, and leadership. Bodyswaps simulations require participants to use their own voice and body language as well as swap perspectives with multiple characters. Bodyswaps has been used by a number of organisations such as Doctors Without Borders and the Norwegian Refugee Council to complement their workforce training programs.
LondonTechWatch caught up with Cofounder and COO Julien Denoel to learn more about the unique benefits of using VR for workforce training, the company's experience raising in the middle of the pandemic, and recent funding round, which brings the company's total funding raised to £795K.
Who were your investors and how much did you raise?
£470K Seed led by Ufi Ventures. Other participants include Haatch Ventures, D Moonshots as well as two angel investors.
Tell us about your product or service.
Bodyswaps is a B2B immersive learning platform (SaaS) leveraging VR, AI, and Behavioral Science to deliver behavioral change at scale. It works by simulating realistic workplace scenarios where learners can interact with virtual humans, using their own voice and body language.
What inspired the start of Bodyswaps?
We have been developing bespoke VR software for 6 years. In the summer of 2018, we took part in the Augmentor Accelerator where we met VR researcher Mel Slater. We found his work fascinating and very inspiring. A couple of months later we got approached by a customer looking to leverage VR for soft skills training – and that's when the first Bodyswaps' module came to life.
How is Bodyswaps different?
Our solution is the only VR soft skills training platform
Delivered exclusively on a SaaS model, with a growing library of off-the-shelf training content
Requiring users to practice their soft skills by delivering an unscripted intervention using their own voice and body language
Combining VR-native analytics, semantic analysis & speech emotion analysis (AI) to provide personalised recommendations to the learner, and data-based behavioral insights to inform organisational strategy
Who are your current competitors?
Companies using VR for soft skills training include Strivr, Talespin, Vantage Point (US), VirtualSpeech, MakeReal (UK), or Equal Reality (AUS) though none of them seem to have adopted a similar business model. The competition mainly comes from existing solutions – coaching, roleplay, and traditional eLearning.
What market are you targeting and how big is it?
The Global Soft Skills training market is projected to expand at a CAGR of 11.9% to reach $38B in 2027.
What's your business model?
BODYSWAPS is a B2B SaaS product. Our clients access our proprietary library of off-the-shelf training simulations on a per-user license basis.
What was the funding process like?
Long! Covid slowed things down for everyone and it took us a while to get that term sheet. Once we had it, things accelerated, and the round rapidly took shape.
What are the biggest challenges that you faced while raising capital?
#1 is obviously COVID and the fact that many investors were either keeping their cash for their existing portfolio companies or freezing investments altogether. Besides COVID, being able to demonstrate the efficiency of a business model (VR SaaS) that has not yet been proven at scale was difficult.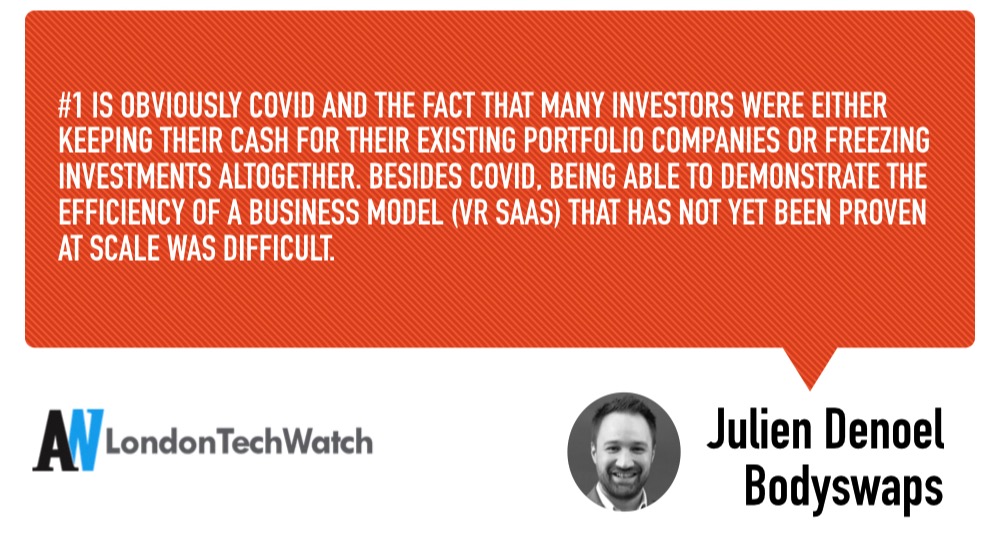 What factors about your business led your investors to write the check?
I'd like to say the team was one of the key factors. Our background in the VR industry and the ability to generate revenue in that industry certainly helped. And the fact that soft skills (emotional intelligence, leadership, empathy) are increasingly important in the workplace and that our solution, more than any other, enables organisations to upskill vast portions of their workforce on these skills, quickly, and at scale, must have been a factor.
What are the milestones you plan to achieve in the next six months?
We want to successfully complete the first large scale deployment of our solution within a global company.
What advice can you offer companies in London that do not have a fresh injection of capital in the bank?
There are loads of opportunities out there. Events, accelerators, pitch competitions, investment platforms – just be out there (even virtually), keep grinding!
There are loads of opportunities out there. Events, accelerators, pitch competitions, investment platforms – just be out there (even virtually), keep grinding!
Where do you see the company going now over the near term?
We are entering an interesting growth phase – we are expanding the team and signing our first SaaS customer deals and will keep developing the product to ensure it remains the most-advanced soft skills training solution on the market.
What's your favorite outdoor activity in London?
These days, just going outdoor is already a pleasure! Although I used to be a real city-dweller, I have become a lot more attracted to space and nature – going for a long family walk in London's wildest parks has become one of my favorite activities over the past few months.
Quelle: