GigXR, Inc., a provider of holographic healthcare training, has recently announced that it has partnered with the Yong Loo Lin School of Medicine at the National University of Singapore (NUS Medicine) to launch a new gastrointestinal module for its HoloScenarios application.
According to the company, the new 'HoloScenarios: Gastrointestinal' module is aimed at enhancing medical and nursing education in diagnosing and treating gastrointestinal diseases, and integrates hyperrealistic holographic simulated patients and medical equipment that can be used in any physical learning environment.
HoloScenarios: Gastrointestinal leverages mixed reality (MR) to present comprehensive patient care scenarios, moving beyond the traditional step-based virtual reality (VR) training. GigXR noted that this approach facilitates varied learning experiences and allows learners to engage in realistic clinical situations, including emergency procedures and medical decision-making.
Developed in collaboration with experts from NUS Medicine, the module is distributed through GigXR's Immersive Learning Platform, a tool used by healthcare institutions and MR developers for creating and sharing immersive educational content.
"Gastrointestinal pathologies can be complex and challenging to diagnose. This module will allow learners to form a deeper understanding and appreciation of the gastrointestinal tract, especially the three-dimensional understanding of anatomy and body functions," said Associate Professor Alfred Kow Wei Chieh from the school's Department of Surgery and Assistant Dean (Education) at NUS Medicine. "We believe mixed reality is the next evolution in healthcare training, and collaborating with immersive platform innovators like GigXR helps us to bring this vital content to more learners globally and, ultimately, improve patient care."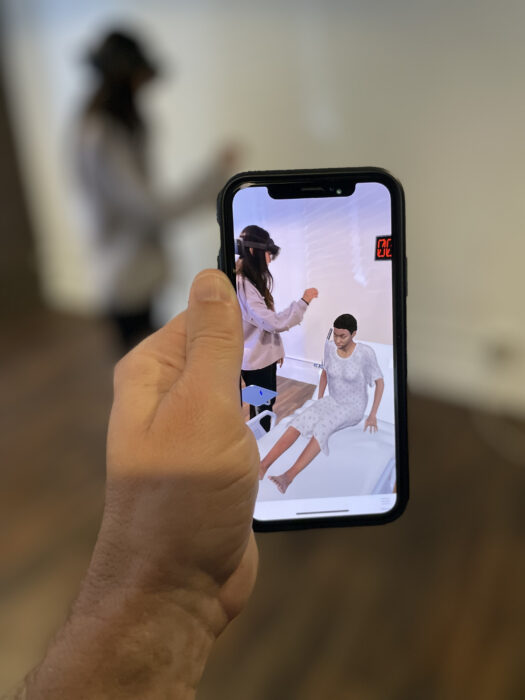 The module incorporates realistic patient simulations, enabling learners to practice both technical skills and soft skills like patient empathy and team communication in safe environments. It also features enhanced diagnostics and treatment training, with the ability to walk around and interact with patient holograms, providing a clear view of physical surroundings unlike VR.
"Immersive technology has accelerated the sharing of expertise for teaching, training, and simulation. Mixed reality, with its natural propensity to facilitate hyperrealistic, safe, and collaborative learning, continues to accelerate both the quality and scale of training outcomes," said Jared Mermey, CEO of GigXR. "We are immensely proud to partner with NUS Medicine which has been at the forefront of adopting mixed reality in both clinical and educational use cases. By bringing their esteemed expertise onto our platform with the co-creation of HoloScenarios' newest module, we believe clinical breakthroughs in diagnosing and treating gastrointestinal diseases will take a giant leap forward."
GigXR noted that NUS joins the University of Cambridge and Cambridge University Hospitals (CUH) NHS Foundation Trust, University of Michigan, and Morlen Health, a subsidiary of Northwest Permanente, P.C., as one of the institutions partnering with GigXR to co-create holographic healthcare training. Other medical simulations from GigXR include modules centered around respiratory diseases, basic life support, advanced cardiac life support, neurology scenarios, and now, with NUS, gastrointestinal diseases.
GigXR and NUS Medicine plan to launch HoloScenarios: Gastrointestinal in Spring 2024. For more information on GigXR and its holographic healthcare training solutions, please visit the company's website.
Quelle:
Image credit: GigXR