To keep abreast of the times, Chinese universities see the metaverse as an opportunity to expand their programs.
As much ink continues to be spilled on the subject of the "metaverse," universities in China are rolling out plans to take their programs into uncharted digital realms this year. Their interest stems from the potential uses of virtual spaces in education, an application that has become increasingly important during the COVID-19 pandemic when schools were forced to hold classes online for extended periods of time.
On Oct. 17, Nankai University in Tianjin launched the country's first metaverse model of its School of Journalism and Communications. To this end, they created a detailed virtual model of one of the campus' teaching buildings that students can freely navigate as avatars.
Prior to that, on Sept. 23, Nanjing University of Information Science and Technology became the first university in the country to boast a department bearing the word "metaverse" in its name. The School of Artificial Intelligence (which also went by the name "School of Future Technologies") announced that its Department of Information Science had officially changed its name to the Department of Metaverse Engineering.
As of time of writing, 17 universities in China have already dipped their toes into this burgeoning field.
University initiatives
Currently, universities are mostly exploring the metaverse through the establishment of labs and research centers. For example, Beijing University of Posts and Telecommunications, Tsinghua University, and Renmin University of China have all founded their own metaverse laboratories.

Tsinghua University opened the Metaverse Culture Laboratory in April this year. Its director Professor Shen Yang told The Paper that, prior to its opening, the school had already begun conducting studies into virtual communities and "virtual humans". He believes that metaverse studies is an umbrella term encompassing a number of fields such as expanded realities (XR) and artificial intelligence.
Shen's team has developed a metaverse elective course for undergraduates, for which some of the classes are held in a virtual reality (VR) environment on a metaverse platform. He explains that the largest difference between holding classes in the metaverse and in real life is that the former is less restricted by time and space. For example, the class can take place in virtual worlds like Mars or a space station. In the future, Shen says, he may bring more virtual humans into the classroom, such as Confucius, to interact with students.
Half of the students enrolled in this course believe that VR technology successfully produces an immersive and interactive learning experience for them, but only 28% think that it lives up to their expectations in its current state. Shen predicts that in about a decade, XR will be a necessity in people's daily lives in the same way that smartphones are today.
Meanwhile, Nanjing University of Information Science and Technology still offers the original Information Science major in its Department of Metaverse Engineering. The curriculum has incorporated several metaverse-related electives, such as Human-Computer Interaction, Virtual Reality Technology, Blockchain Technology, and Brain-Computer Interfaces. Professor Pan Zhigeng, dean of the department, explains that the department has already submitted a proposal for a major in Intelligent Medical Engineering and plans to propose a Virtual Reality major in the near future.
For now, no metaverse-related majors have been given the green light by the Ministry of Education. However, the Department of Computing of The Hong Kong Polytechnic University announced a new one-year Master of Science in Metaverse Technology program in October, for which enrollment will open in 2023. By the end of 2024, the program will see its first cohort of graduates.
Some universities have set up metaverse discussion platforms or begun to develop metaverse-related products. The Communication University of China, Southeast University, and Northwest University have all opened "virtual campuses" on different metaverse platforms. Users can access these platforms and roam the virtual campuses using VR equipment, mobile devices, or personal computers.
Regional support
Following the wave of interest in metaverses over the last couple of years, not only have Chinese tech tycoons such as Tencent and ByteDance launched their own metaverse divisions, some local governments have also jumped on the bandwagon this year.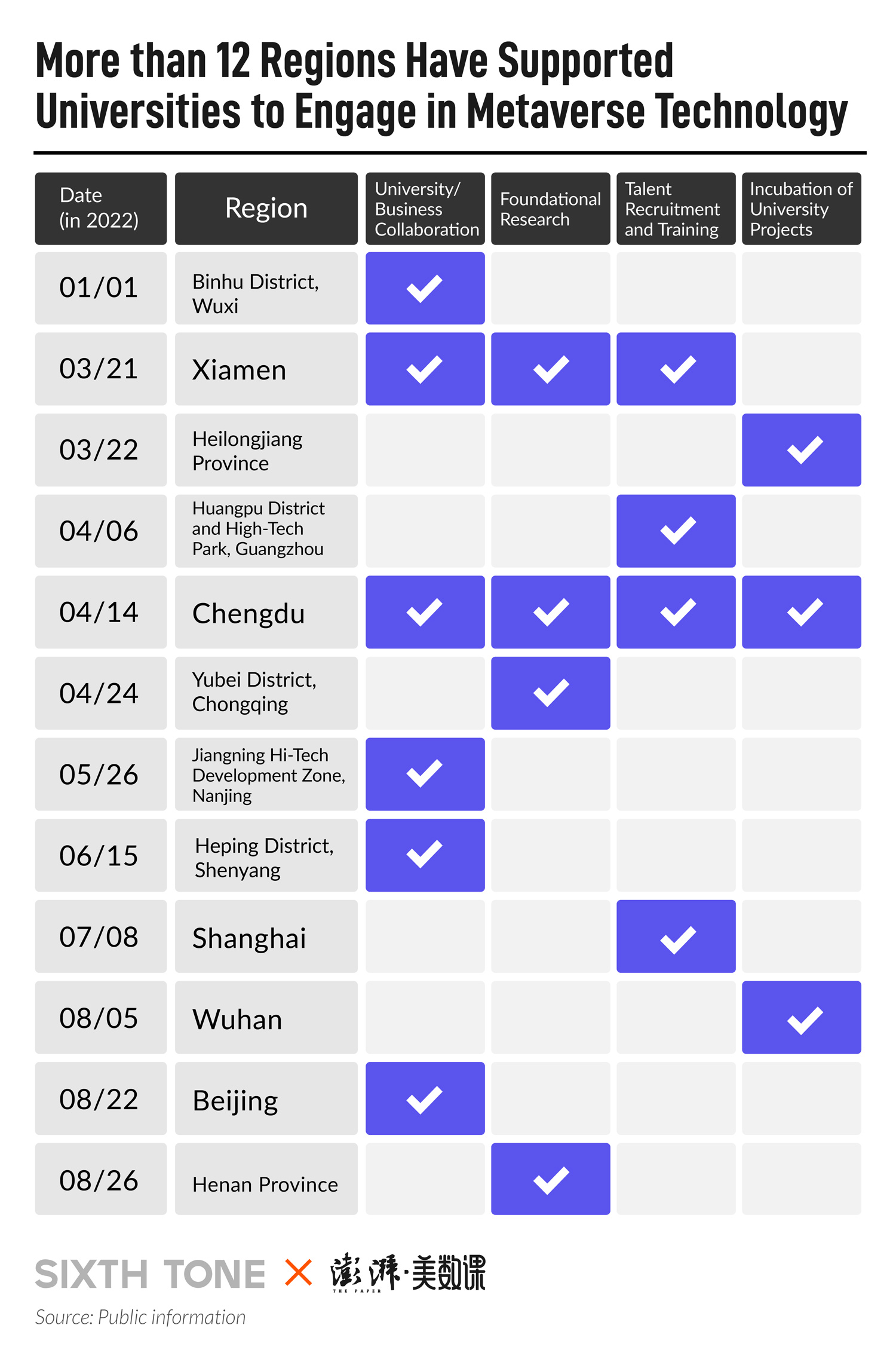 Over 30 prefectural and municipal governments have drafted policies to support metaverse development and are now soliciting input from the public. Close to 20 policy documents include "metaverse" in their titles. This goes to show the support of many local governments for universities to develop metaverse services and elective courses.
Predecessors
Will the arrival of the metaverse set off a trend of new metaverse majors? The Paper reviewed the new majors emerging since 2002 to see how technological innovation has brought changes to education.
In 2002, eBay purchased a 33% stake in Eachnet.com for $30 million, marking the beginning of the era of online shopping. The following year, Taobao — China's answer to eBay — went online, and 56 schools in China introduced e-commerce degree programs
Today, online shopping has become more popular than ever, but e-commerce degree programs have frequently come under fire. "They hyped the program up, saying it'd make us 'all-round experts' when we hardly touched the surface of each subject," one graduate complained online.
Zhejiang University and Shantou University closed their e-commerce degree programs in 2018. Prior to that, Zhejiang University had not opened enrollment for its e-commerce program for several years.
Meanwhile, the number of other new degree programs that have emerged and risen in popularity since 2010 has soared.

The age of "big data" has spawned a plethora of hot new majors, including Internet and New Media, Data Science and Big Data Technology, as well as Big Data Management and Application. Of these, Data Science and Big Data Technology was the most frequently added major for universities' undergraduate programs in the last 20 years. In the space of seven years, a whopping 715 colleges and universities added the major to their selection of programs.
New majors with "intelligent" or "smart" in their names also came with the rise of artificial intelligence. The tech trend gave rise to 36 new majors over the last two decades, including Smart Agriculture, Smart Hydropower, and Intelligent Manufacturing Engineering. A total of 1,397 programs in these majors are offered at colleges and universities across China. Since the Ministry of Education approved majors in artificial intelligence in 2018, 440 colleges and universities have opened a program.
It remains to be seen if the new trend of offering metaverse programs will truly revolutionize education and research, or whether it will just be another flash in the pan.
Reporters: Li Haohao and Wang Yasai
A version of this article originally appeared in The Paper. It has been translated and edited for brevity and clarity, and is published here with permission.
Translators: Lewis Wright and Xue Yongle; editors: Xue Yongle, Luo Yahan, and Elise Mak.
Quelle: