Learn how virtual reality training provides an immersive, real-world experience that simulates hands-on learning in safe, controlled environments.
Summary
Virtual reality (VR) training is an immersive learning experience that engages learners in real-world scenarios that teach important skills and concepts. Research has shown that VR training can increase engagement and knowledge retention while decreasing training time, in a safer and more cost-effective way.
What is VR Training?
Virtual reality training uses cutting-edge technology to simulate real-life scenarios which teach important skills and concepts. VR training provides a safe, controlled, cost-effective, and highly impactful experience. It is good for training in areas that are difficult, dangerous, or expensive to simulate in real life.
While there are obstacles to VR training, the benefits are clear. It is no wonder that new industries and organizations are adopting VR training daily.
The 5 Benefits of VR Training
Virtual reality training uses cutting-edge technology to simulate real-life scenarios which teach important skills and concepts. VR training provides a safe, controlled, cost-effective, and highly impactful experience. It is good for training in areas that are difficult, dangerous, or expensive to simulate in real life.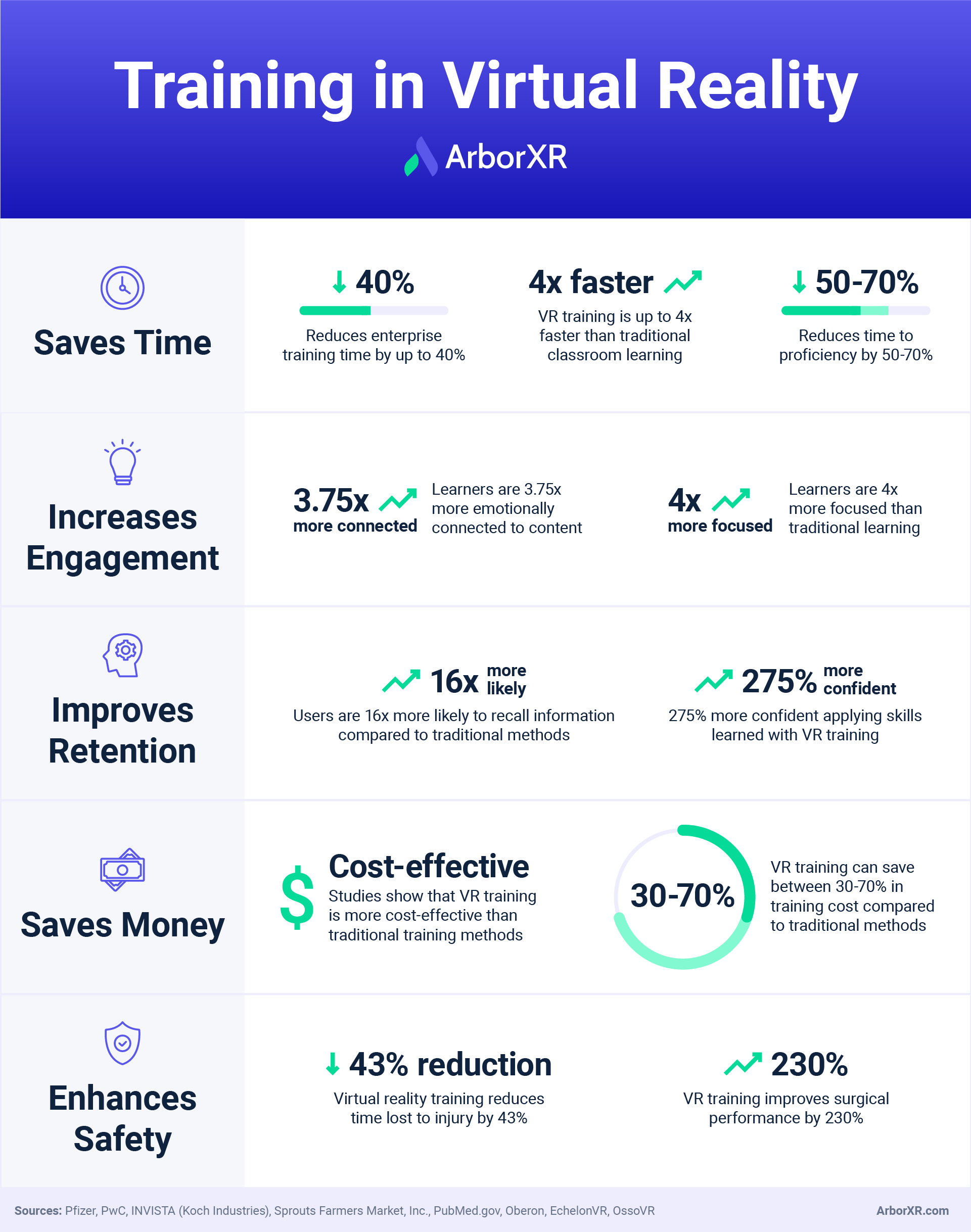 Virtual Reality Saves Time
Virtual reality training saves valuable time when compared to traditional training methods. Classroom and e-learning require students and trainees to travel to a specific location or wait for the right set of circumstances. VR training eliminates these challenges and helps learners complete training even more quickly.
4x faster
PwC report shows that VR learning is 4x faster than traditional training methods.
Training can occur anywhere a VR headset can be shipped and connected. VR can simulate real-life situations, so learners don't have to wait for access or opportunity.
Amid a global pandemic, Pfizer had the enormous task of producing more vaccines than ever. They needed to train thousands of people more efficiently to accomplish that task. They turned to VR training. VR allowed Pfizer to reduce new task training time by up to 40%.
VR training also allows for repetitive practice of specific scenarios. The moment of shock you experienced when you were a child and you burned your finger for the first time changed the way you interacted with heat forever. It was a quick lesson, but it lasted. Failure and mistakes help us learn, and VR allows us to fail and try again much faster than other training methods.
Virtual Reality Increases Engagement
VR training creates immersive learning experiences that can catapult learners into real-world environments that capture the senses and ignite the mind.
ClassVR
Texas teachers partnered with ClassVR to take their kids on field trips to libraries and museums worldwide. The impact was inspiring. Teachers reported seeing the excitement as their students moved through digital recreations of real-world locations. Teachers also said their students, who normally struggle to follow directions, were more engaged than ever.
Deloitte
Deloitte, the world's largest professional services network, has utilized VR training to teach decision-making skills. Deloitte found their VR "exercises achieved a higher level of engagement and a greater retention of information."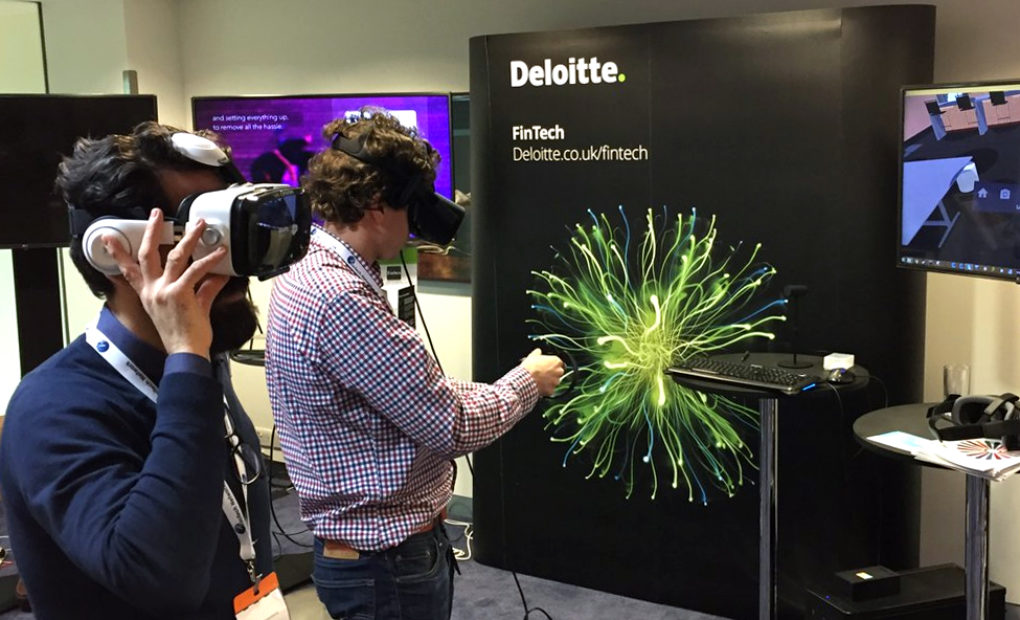 VR training puts learners in the action and connects them deeply to what they're learning. This is especially helpful for skills that require a high level of visualization, such as sports, engineering, or manufacturing.
VR can also involve gamification elements that add a sense of competition to their learning. Competition, with self and others, increases motivation and attention and can also create an environment of teamwork.
Virtual Reality Increases Retention
VR training is the golden standard for retention, as it provides considerably higher retention rates than traditional training methods.
Sprouts Farmers Market
Sprouts Farmers Market began utilizing virtual reality for onboarding in many of their stores in 2019. They compared the effects of VR training against their traditional training methods, and their findings were staggering. According to Sprouts' VP of Store Operations, Cindy Chikahisa, the VR group was sixteen times more likely to recall what they had learned.
University School of Medicine in Atlanta
University School of Medicine in Atlanta reports similar results in its medical training application. They found 40% fewer errors when surgeons trained with VR than with traditional training methods.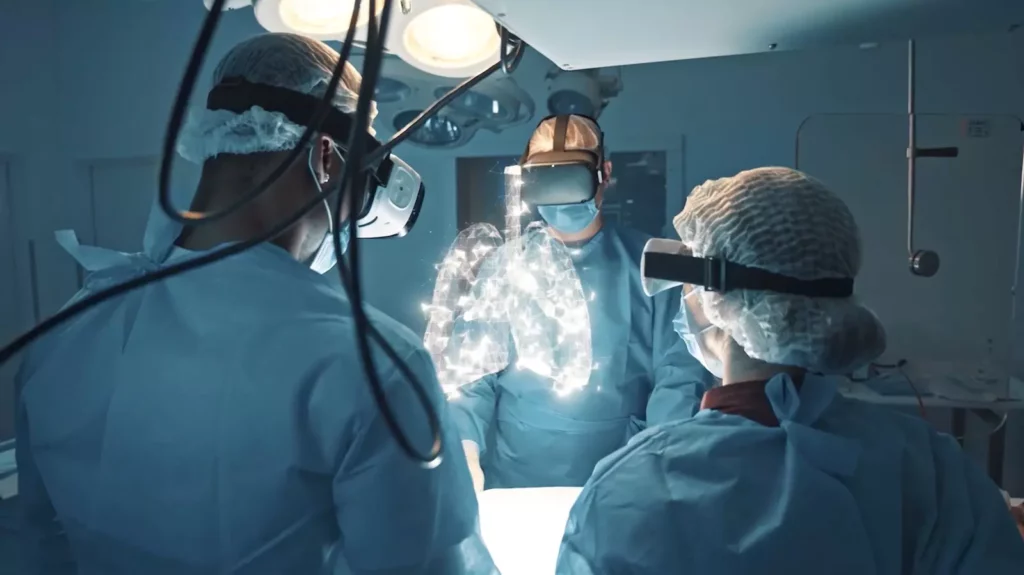 Miami Children's Hospital
Miami Children's Hospital has used VR to train its staff on CPR, IV insertion, wound care, and other life-saving responsibilities. They have found retention rates have improved from 20% with traditional training methods to 80% with virtual training, which is a 60% increase in retention rate.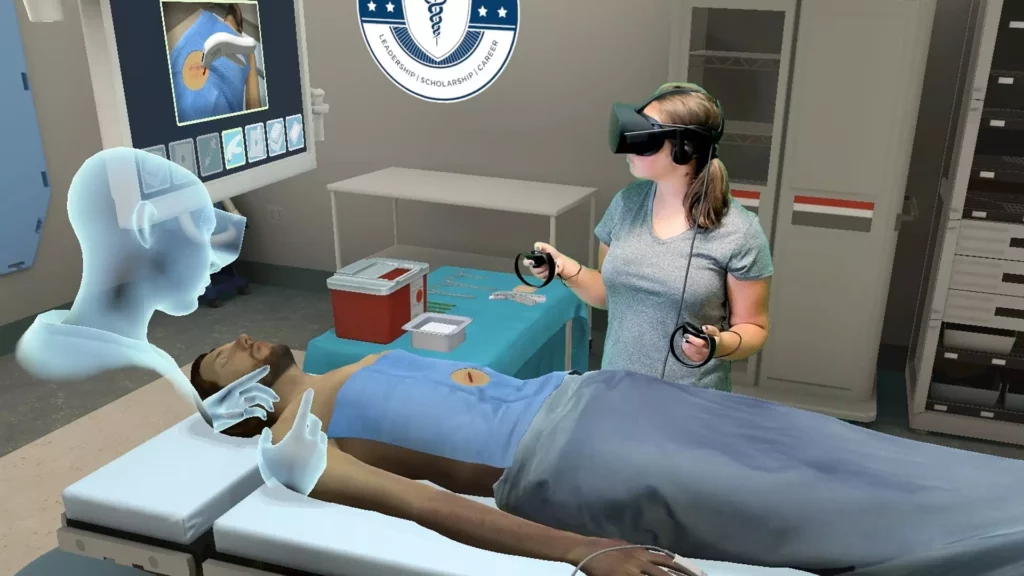 Virtual reality engages the senses. Instead of hearing or reading, learners experience the content. Case studies show that experiential learning can enhance memory consolidation and retention.
VR training also allows for repeated practice, and repetition helps us retain information. VR gives us the time and space to practice material over and over again. Repetitive practice is difficult in traditional training methods where time and space are limited. But VR changes all of that.
Virtual Reality Saves Money
While the initial cost of VR training may be higher, the potential savings outpace traditional training methods.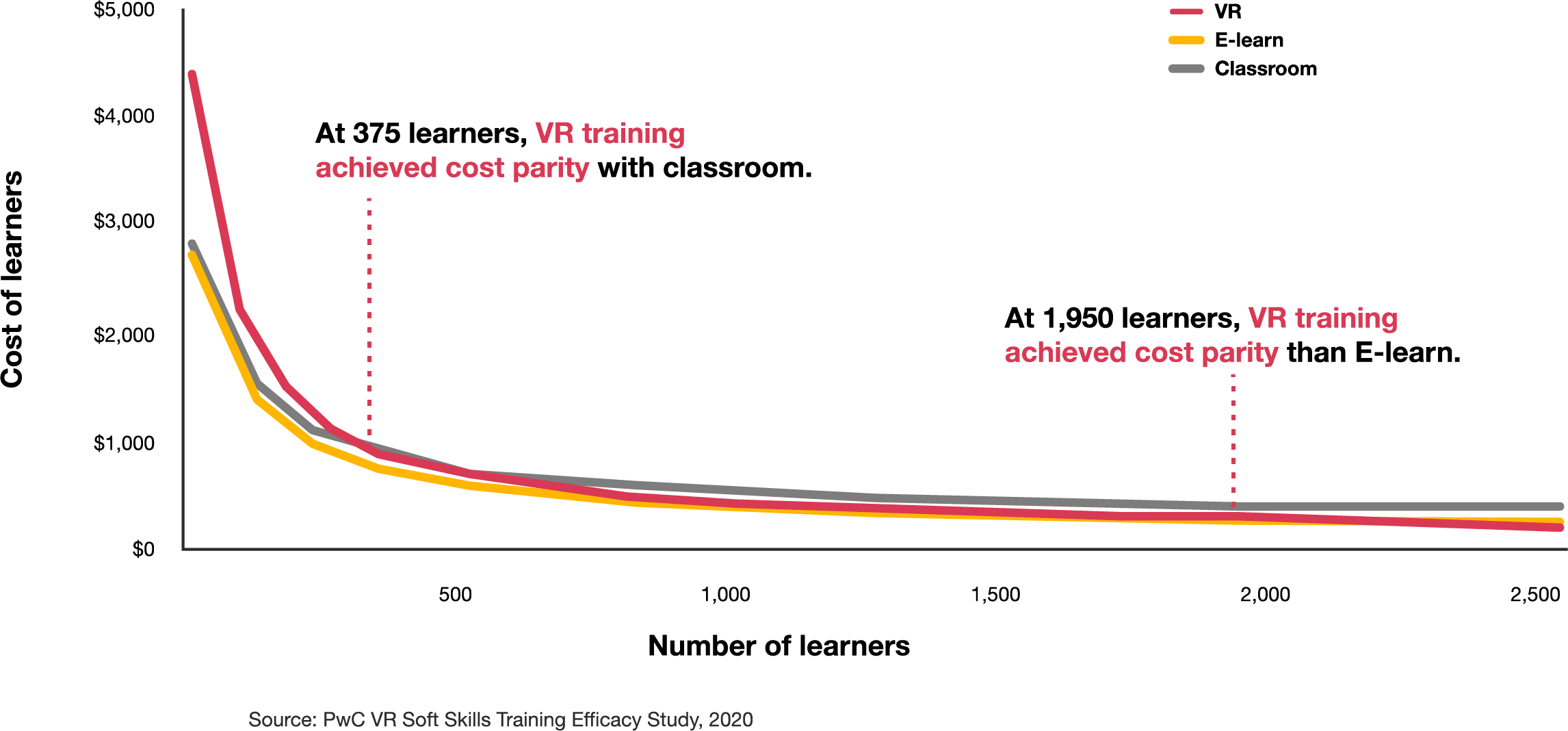 VR can simulate real-life scenarios without the need for expensive equipment or facilities. It allows learners to participate from anywhere worldwide, eliminating travel costs. It also reduces the risk of costly errors and injuries.
The average VR headset now costs less than $500. A world of endless learning potential at your fingertips for less than it costs to buy an average office chair. Training content has also become more accessible, with VR developers like Moth+Flame, Futurus, and Miller Creative, producing quality content that can be delivered countless times to large groups anywhere in the world.
VR training is an investment in the future of your company, your students, and your customers.
Virtual Reality Enhances Safety
Virtual reality enhances safety by bringing high-risk training scenarios into a controlled, risk-free virtual environment. Learners must feel safe to explore, challenge themselves, and grow without fear of making mistakes or being hurt. Organizations must protect themselves from costly errors or injuries.
43% reduction in lost time from injury
Research from the mining industry has shown that immersive VR training can reduce dangerous mistakes by 43%.
230% improvement in surgical performance
VR training has improved surgical performance by more than 230%.
VR training provides learners with real-time feedback. This helps companies and educators correct mistakes before they become systemic. Many of the benefits of VR training stem from its ability to track progress. It gives access to data proving retention, engagement, and ROI. And that data can also help learners avoid costly mistakes once they're on the job.
Challenges with VR Training
Virtual reality, by nature, is a disruptive technology. It intends to change the entire landscape of training and learning. This type of disruption means there will be obstacles to adoption.
What will it cost to use VR for training? What's the ROI? Who will manage the devices? Who will offer technical support when it's needed?
You'll need to consider which headsets to use, where you buy them from, what content you'll deploy, and what device management software you'll use to keep track of it all. You may have to pitch your vision to coworkers, administrators, IT leaders, and C-level executives.
The key to integrating VR is to create a successful pilot program. VR Pilot programs give you the opportunity to use VR at a smaller scale and ensure the training content is impactful. This is the proof-of-concept phase, where you gather feedback from learners, track progress, and demonstrate the ROI of VR.
After a successful VR pilot program, it's much easier to integrate virtual reality and immersive technology into an organization. But with speed comes more responsibility, and the need to plan for scale.
How do you deploy dozens, hundreds, or even thousands of devices across your organization? Deploying hardware, software, and support is a huge obstacle for VR. All of the considerations, from conception to pilot, still exist but on a much larger scale.
The journey may seem like a lot. That's because it is. We understand the obstacles to introducing VR in large organizations. We've been part of helping thousands of people create roadmaps for their businesses and institutions.
Let's look deeper at some common obstacles you may face on your road to VR training, starting with scalability
Challenge: Scalability
VR offers an inspiring and effective training experience. But without the ability to scale, VR is a shiny new toy with old batteries. Fun to play around with for a moment, but it won't last. You will likely do it in waves when planning to roll out VR training. A few headsets to begin with, then a few more, then maybe a large push for dozens, hundreds, or even thousands. The mountain of work to keep it all going will grow with each new device.
Preparing a few VR headsets for your training program isn't so difficult. But loading content onto dozens of devices is a big task. Suddenly, this time-saving technology is now burning through hours of your day. Things get even more difficult if you plan to use VR across multiple locations. This is why many organizations turn to device management software to help them.
"When working with 1-5 headsets, it's easy to manage content. But once things scale, it becomes a mountain of a problem, a chasm you must bridge. ArborXR is the bridge we use to deploy content."
At scale, VR can save time and money. Some organizations turn to traditional unified endpoint managers (UEMs) to help them. But traditional UEMs don't offer the right tools to support XR. As a true XR MDM solution, ArborXR builds functionalities specific to your needs. We allow you to manage and maintain your hardware and software through a user-focused interface. Our work is to keep things simple so that you can teach and train.
Challenge: User Adoption
New technology, like any change, may invite confusion and fear. There may be pushback from key decision-makers and learners. Keep in mind these reactions are reasonable. In the mid-1980s, most people thought personal computers were a silly concept. People carrying around typewriter-sized electronic devices so that they could work anywhere didn't make much sense. It didn't "compute."
Some in your organization may dislike change. Some may not like the idea of wearing a VR headset. Some may lack confidence in their technical savvy. No matter where a concern comes from, be open. Listen. By including everyone, you will gain advocates. You will be able to address worries, and you will be able to spot potential roadblocks.
Nick Hockley spoke about the advancement of VR training at Pfizer, "it took multiple years for VR to get momentum going, and it took two years for our proof of concept to show where the business value was going to be."
Despite the best efforts, advancements are sometimes slow. Consistency is key. Don't hesitate to reach out to us. At ArborXR, we strive to make it easy for organizations to experience the power of XR.
Challenge: Security
Security will be one of the first things you consider whether you're in a boardroom or classroom. As Forbes recently pointed out, no organization is immune to cyber threats. Every major company or educational institution expects enterprise-standard security with VR.
VR training can be sensitive, as much of the content shared and displayed may be confidential. For enterprises, this may mean that your VR training program includes internal communications, customer data, or login information. For education institutions, your VR training program may consist of student information or test keys. When working with a new third-party, such as VR content creators or even ArborXR, your organization will want to prove stability and security.
Virtual reality uses different hardware and software from phones, tablets, and laptops. This is why it can be beneficial to use XR-specific management software like ArborXR. We allow for streamlined firmware and software updates, many of which contain bug fixes. ArborXR is SOC 2 Type 2 certified and is hosted on Google Cloud with all the security elements you expect. ArborXR also provides the ability to remotely track where devices are and erase all data on headsets. These are the types of assurances that your organization will be looking for to prove the security of your new VR training program.
Security can be a lot to tackle. The threats are real. The process you may go through to gain approval for new technologies and partners may be daunting. At ArborXR, we help shield our partners from threats so that you can remain focused on the training that is so valuable to you.
We're Here to Help You Get Started with VR Training
Training with virtual reality is proven. It provides a safe, controlled, cost-effective, and highly impactful training experience. VR training is not the future; it's the now. More and more companies are using VR as a tool every day, and that won't slow down. Technology will continue to advance, and the appetite of learners will continue to grow. VR training helps organizations stay ahead of the curve. This is where ArborXR enters the picture.
Need help implementing VR training in your organization? From choosing the right headset to managing your devices and content, we can help you plan VR training in your organization. ArborXR gives you the tools to manage XR devices, deploy XR content, and control what users see and do in VR.
Quelle: