Educators are continuously researching new teaching methods to implement in the classroom in order to keep students engaged and reduce the monotony of learning. And what better way to keep the attention of pupils than to incorporate interesting new technologies like 3D printing and augmented reality (AR)? This idea is precisely the essence of Sintratec's new workbook project with Zurich University of the Arts (ZHdK). Specializing in selective laser sintering (SLS), Sintratec is a leading manufacturer of 3D printers in Switzerland. The SLS printer manufacturer worked with Jonas Christen, a research associate of the group Knowledge Visualization at the ZHdK and together they were able to produce immersive AR teaching materials.
With hazard of students getting completely enthralled in the AR aspect, to kept everyone on task Christen mentions, "A pure AR application bears the risk that the students are distracted by the fascination for the medium and absorb little information. That's why the AR technology is combined with an analog workbook."While similar hybrid AR teaching tools exist in the marketplace already, introducing the 3D-printed supplements could reduce the cost of acquiring these types of teaching tools.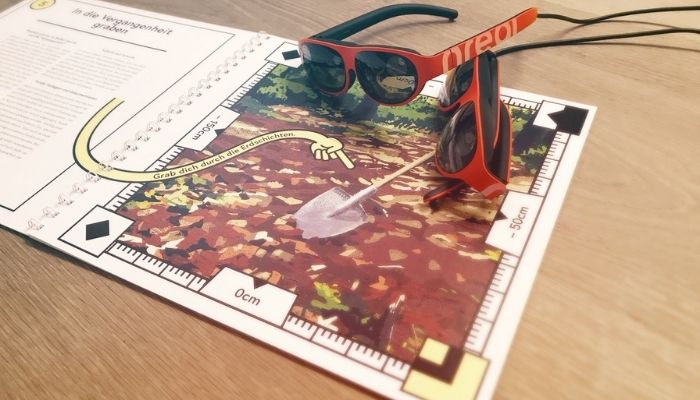 3D-Printed Archeological Replica
This workbook project is centred on a bronze ancient archeological object, a "chain divider", which was more than likely used as an ornament for horses. The replica for the workbook was 3D-printed with PA12 nylon material on the Sintratec S2 system. "The Sintratec technology allows us to reproduce the extremely fine aspects of the object in great detail. The accuracy, robustness and haptics of SLS printing were important factors for us.", explained Christen. Funnily enough, similar to an in the field archeological dig, after the replica is printed it goes through post-processing and is depowdered in the Sintratec S2.
Using AR glasses, students experience each step of the archeological process three-dimensionally via animation on the surface of the workbook. in order to gain a better sense of the archaeologist's approach. This particular workbook supplement is an historical discovery that dates back to 400 BC and uncovered in 2014 at the Uetliberg mountain near Zurich. This highly complex ancient artifact was able to be replicated and provide hands-on learning experience thanks to the technological advances of 3D printing, and specifically the fine detail that is able to be achieved using SLS technology. "The 3D-printed reconstruction serves as a visual object for the students to experience the dimensions of the find, but can also provide archaeologists with new insights about its possible use", stated Christen. You can learn more about this project HERE.
Quelle:
Photo Credits: Sintratec
https://www.3dnatives.com/en/sintratec-augmented-reality-3d-printing-immersive-learning-experience/#!