Glasses-free 3D dashboards could be heading to vehicles as early as 2022. 
Automotive technology manufacturer Continental has announced a partnership with Silicon Valley-based display technology start-up Leia Inc. to develop a glasses-free 3D lightfield display designed to increase the safety and comfort of both drivers and passengers.
Referred to by Continental as the "Natural 3D Lightfield Instrument Cluster," the technology would supposedly add a greater level of interactivity between the passengers and machine by incorporating immersive elements such as 3D depth, key information highlighting, sparks, and various other lighting effects that present important data in a safe and convenient manner.
"One of the automotive industry's greatest challenges is to develop intelligent concepts for human-machine interaction," stated Jens Brandt, head of business unit Instrumentation & Driver HMI, Continental North America, in an official release. "To create solutions that enhance the driver experience and allow the driver to simply and effectively interact with the vehicle without becoming distracted from the road. The new Lightfield display not only brings the third dimension of the highest quality into the vehicle, but the innovative technology also creates a new dimension of comfort and safety. Our solution provides vehicle manufacturers with the ability to enhance the driver experience."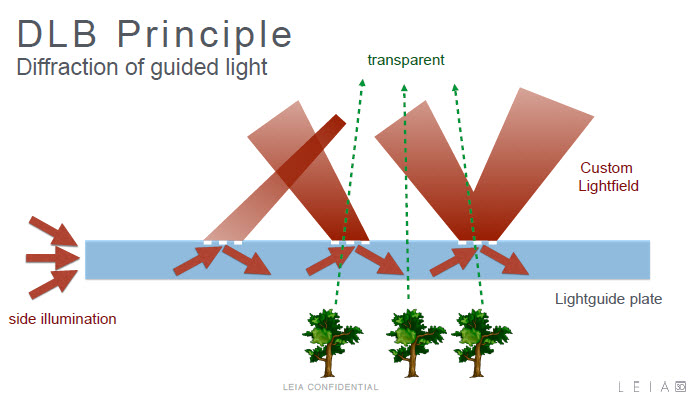 Example of Leia's DLB Principle // Image Credit: Leia Inc.
Using Leia's lightfield technology, the team was able to bypass the need for a conventional head-tracker camera by instead producing eight different perspectives of the same object on the display which, when viewed from different angles, creates a 3D effect without the need of additional glasses or smart device. Leia's Diffractive Lightfield Backlighting (DLB) technology, popular among companies such as AT&T and Verizon, ensures a clear, easy-to-view 3D image no matter what the lighting conditions may be.
In the future, Continental and Leia hope to incorporate additional features to its suite of lightfield tools, including video calls, internet browsing, video and music streaming, and various other AR functions. For now, third-party developers can create their own "holographic" applications for the LeiaLoft content platform using the Automotive Software Development Kit (SDK).
"The car is clearly the next frontier for mobile," added David Fattal, Leia Inc. co-founder and CEO, in the official release. "To us, it's a bigger, more immersive version of a smartphone with full 3D awareness of its environment. The vehicle is a logical place to deploy our growing Lightfield ecosystem of immersive gaming, video streaming, social sharing, and even e-commerce activities."
According to Continental, production of the 3D lightfield system is scheduled to begin 2022.
Quelle:
https://vrscout.com/news/continental-leia-3d-lightfield-car-display/
Foto: Featured Image Credit: Continental