The automotive industry is one of the biggest users of AR/VR and MR, across the design and training process, even more so now with the move towards autonomous and electric vehicles. So I read with great excitement that Munich based Innoactive has just announced a partnership with Volkswagen Group to train 10,000 of their staff across multiple brands and multiple locations.
Meet Innoactive as well as a range of other experts, including The Institute of Directors, Accenture and Deloitte at Future Tech Now on April 5th, London, to discover how immersive technologies can transform enterprise. Thursday conference ticket required. 5% discount with code ENT5.
Ahead of his presentation, I got chance to speak to Daniel Seidl, CEO and Founder of Innoactive, in an interview below, but first a little bit about this latest announcement.
At MWC, Innoactive presented a "best practice" VR training simulation in use at the Volkswagen Group's logistics department, which was built with the Innoactive Hub SDK and optimised for the HTC Vive Pro. Guests learned how to perform a process guided by a virtual avatar. A trainer then joined the user in a VR session to supervise and instruct, giving instant feedback and rewarding them with points.
"By using the Innoactive Hub SDK, the content creators will have the flexibility to build any of these scenarios and characteristics in no time." said Seidl.
Volkswagen worked with Innoactive to form the Volkswagen Group Digital Reality Hub, a VR platform that helps the company's employees collaborate across the Audi, SEAT, ŠKODA and Volkswagen brands.
The company has used its suite of VR apps to allow multiple users to simultaneously collaborate while physically located between Volkswagen logistics office in the Czech Republic and the company's headquarters in Wolfsburg, Germany.
Now it is being scaled up on an epic scale. Volkswagen Group aims to train 10,000 employees in production & logistics with more than 30 VR training simulations.
Dennis Abmeier, IT Project Lead, at Volkswagen Digital Realities said: "We need to engage our people to use our VR applications, no matter where they are. We need a smart infrastructure that allows us to integrate services from different suppliers. Together with our partners, Innoactive and HTC, we created the Digital Reality Hub to make VR available to all people."
Malte Hedemann, Digital Project Lead, Volkswagen Digital Realities said: "Digitalisation and automation changes the way we work at Volkswagen every day. Virtual reality allows us to bring together our experts from all over the world, simply set up scenes by dragging and dropping 3D objects into it. Virtual reality will allow us to build the cars of the future."
According to Seidl, the Innoactive Hub SDK helps to save production costs of workspace simulations by up to 80%.
Also at MWC, Innoactive announced "Innoactive Workspaces" which is an integrated end-to-end solution allowing for non-developers to plan, simulate and train industrial workspaces in Virtual Reality, while being immersed in VR, which will be released later this year.
INTERVIEW WITH INNOACTIVE CEO DANIEL SEIDL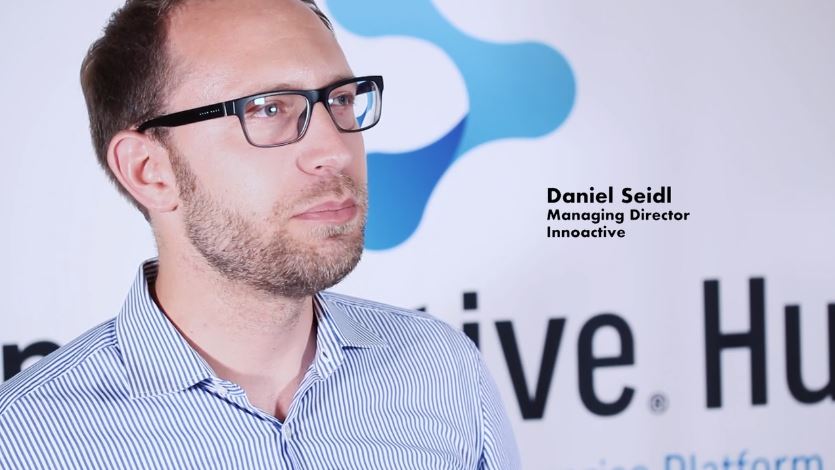 Jonathan: What is Innoactive doing in the augmented reality space?
Daniel: Well, a lot of companies are excited about Augmented Reality. While AR relies on the actual environment, VR is way better for training because you can put the user in any environment you want. You put your teams together in a virtual training centre, independent from their current location, before their workplace is even built yet. This is a major cost saver and helps an investment decision in VR technology.
We are confident that training will be VR first and AR second, for example to do on-the-job training. Now everyone gets excited because of ARKit / ARCore, and indeed the installed base of compatible smartphone and tablets is growing very fast. Today, these technologies alone are not yet supporting all the features needed for enterprise use, especially with training. They lack a persistence layer which links virtual objects to the real world which can be saved later use, similar to how the Hololens works. Once that functionality is integrated into smartphones, AR enterprise applications for mobile will rocket and AR will be a good add-on to our software.
Jonathan: What barriers are there for companies to integrate immersive technologies?
Daniel: The VR headsets are here, but the issue is how to get your data in there. The number one issue right now is content creation – so we think that there are solutions needed to lower the content creation cost dramatically. If you want to roll-out many different simulations you need a consistent user interface and you need to be able to make changes at any time without being dependent on a third party.
The Innoactive Hub SDK is this common set of functionality and it will save you up to 80% of cost. Then there is a strong need to create VR training without involving a developer at all. Trainers want a tool to make changes in the workflow themselves –that's why we announced Innoactive Workplaces. The more our customers can do themselves, the better.
Another thing is that manufacturing companies want to use their 3D models stored in various systems in their training. To get them into a Vive or Hololens really needs an automated process. The good news is that these solutions exist, but many people are unsure how mature they are, so we help them to do a POC to evaluate them. I am very confident that there will be one-click solutions soon. On our side, Innoactive Hub works with any existing CAD pipeline, so each customer can decide which one fits best to their data.
Jonathan: What's the evidence that VR can be good for productivity? 
Daniel: I will give you a good example from the automotive industry.
Staff trainings are currently depending on physical machinery and software systems, which both are hard to replicate. Additionally, knowledge is distributed across corporate locations and people have to travel to training facilities or are trained with videos only. This hurts the budget, as the car is currently completely being reinvented towards a fully autonomous EV. Literally all models have to be reworked, which means that there is a huge need for planning new production lines. Right now, it is done by hand with "cardstock and duct tape". Expensive prototypes have to be dismounted and people have to travel to workshops or their knowledge cannot even be integrated. Then all the workers need to be trained on the new workflows, to ensure a fast ramp up time.
With Virtual Reality, you can do all planning, simulation and training of industrial workspaces without being dependent on time and space. Companies are excited to use VR to save travel costs, avoid expensive prototypes and to do the transition faster. VR gives people superpowers by allowing them to create new workspaces with up-to-date CAD data and virtual prototyping tools at their hands. Once the new workspaces have been approved virtually, the training content is already there and can used right away.
Innoactive Workspaces does exactly that. You can create your workspace environment with a drag and drop interface, validate it to be optimal – and at the end you get a VR training simulation with one click. And all this of course collaborative, as Workspaces runs on our VR collaboration platform Innoactive Hub.
Getting all the people and immersive data together in VR really helps to ultimately boost productivity. And for VR training, the business case is really simple: The more people you train, the faster investment pays off.
Jonathan: What other markets have you been exploring?
Daniel: We really focus solving problems in production & logistics – but in fact use cases for VR in enterprises are endless and will evolve over time together with technology. For example, the Vive Pro features a great resolution so now you actually can read text in VR way better, so new use cases pop up.
IT departments need to make sure that every department run their own POCs and pilots with VR and then be ready to operate them with a unified user interface and a solid infrastructure behind. With the Innoactive Hub SDK for Unity3D, companies can contract third parties to create not only trainings but any kind of collaborative VR use case, for example virtual showrooms, data visualisation rooms, virtual board meetings etc.
This was the idea behind Innoactive Hub platform: To give a powerful tool to departments validate VR fast for their use cases, and then be ready to scale and deploy them to as many users as possible. For example, we have seen a good interest in using VR to recruit people. Our customer Deutsche Bahn (German Railway) uses VR to show people what their future job looks like. This pilot was really successful and they rolled it out across Germany.
Jonathan: How integrated is Innoactive Workspaces with other PLM or LMS systems?
Daniel: Workspaces is built up on our Innoactive Hub platform. It does not only manage all the generated data but also has a middleware architecture. Our philosophy is to integrate very well with other systems in order to maximize value for the customer: just integrate a system once and reuse it in any other application built with the Innoactive Hub SDK. You can integrate your corporate Single-Sign-On, connect your PLM system with an appropriate 3D pipeline and link training simulations with your Learning management systems. We will add more integrations over time – for now customers can invest in connectors at the time when they actually need them. We are also looking forward to work with third party VR software vendors to let them integrate with Innoactive Hub, so our customers buy their software and deploy it faster to a large user base.
Jonathan: What are your plans for the future?
Daniel: We will evaluate impact of new technologies, such as 5G/edge computing, because this could enable us to calculate all real time graphics in the (private) cloud and stream directly to mobile headsets. This could save cost per user, as they do not need expensive VR hardware any more.
Today we already use chatbots and virtual avatars in each workspace simulation in order to help the user to accomplish a certain task. I believe that AI/deep learning could drive even better avatars and also help to identify workflow improvements by analysing behavioural data of the users. This opens doors which have not been existed before – and I am really excited how we look back on all this 5 years from now.