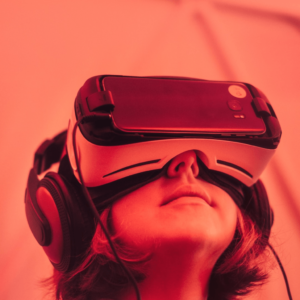 Stop for a second, and go down memory lane. Remember the old conventional methods of blackboards and then whiteboards? Good times. The 21st century has surely gone through various phases, and with the rapid advancement in technology, one cannot be surprised if the conventional ways of teaching are now long gone and buried deep down. Nowadays, generation Z are lucky; Who needs markers and boards when you have Virtual Reality?!
Education is not about learning the facts, but it's more about training the minds, which is what Virtual Reality is all about – training the minds in a suitable environment. To put it simply, virtual reality is a computer generated simulation image of a person or an environment – looks and feels real, but in reality, it's not! The 2016 NMC Horizon Report states that in 3 years, the higher education sector will be embracing the virtual reality. What does this mean for education? Well, stay tuned to know the 4 ways Virtual Reality can make studying fun!
Real life examples – 360-degree photo spheres in virtual reality can provide a better understanding to students. Let's imagine that a history teacher is required to take their students to a museum or to a historical site. It requires money, time, and patience (we all know how crazy it is to manage kids!), well, virtual reality comes to the rescue: The 360-degree photo spheres of the location can be created. All you need is a camera and a conversion software that will transform the images into virtual reality images. There are even apps that help you create them, such as HoloBuilder.
Remote Locations are no longer a dilemma – Are you soon graduating, and are searching for a university? Well, with virtual reality you can arrange virtual visits! It doesn't matter if you live at the very end of the world, you will be able to visit any campus of your liking, even take a stroll around the lush green gardens. You can even satisfy the scientist in you by checking out the science lab and the resources they have. Oh, and good news for aeronauts with fear of height! You will be able to go to space, without actually leaving planet Earth!
Can you game while you learn? Good news for all gamers out there! Parents no longer have to pull their kids away from the TV and computers. The potential of learning through video games has been realized and educational institutes are trying to integrate simulation games into their college curriculums.
Another method for academic institutes to flaunt – If they start using virtual reality, they're already one step ahead of their competitors. Students would feel attracted to apply, especially after going through the virtual tour of the campus. Having advanced technologies in any academic institute is important since we basically live in a digital era.
Are you excited about virtual reality? Because this surely makes us want to go back in time (yet live in the same century though), to experience school in a different, and more interesting manner! With virtual reality, every student will actually look forwards to learn something new on a daily basis.
Quelle: Startup MGZN – 4 Ways Virtual Reality is Going to Revolutionize the Educational Sector!