Virtual reality offers the unique possibility to experience a virtual representation as our own body. In contrast to previous research that predominantly studied this phenomenon for humanoid avatars, our work focuses on virtual animals. In this paper, we discuss different body tracking approaches to control creatures such as spiders or bats and the respective virtual body ownership effects. Our empirical results demonstrate that virtual body ownership is also applicable for nonhumanoids and can even outperform human-like avatars in certain cases. An additional survey confirms the general interest of people in creating such experiences and allows us to initiate a broad discussion regarding the applicability of animal embodiment for educational and entertainment purposes.
Studie: In VR kann man sich besonders gut als Tier fühlen
Ob man im Körper einer Spinne seine Spinnenangst besiegen kann?
Forscher der Universität Duisburg-Essen haben untersucht, wie gut sich Menschen in den Körper eines VR-Tieres einfühlen können. Immerhin ist die Selbstbefreiung von den eigenen physischen Gegebenheiten durch die Verkörperung digitaler Wesen eines der großen VR-Versprechen. Einfach mal jemand anderes sein – oder etwas anderes.
Insgesamt 26 Probanden versetzten die Forscher in den Körper eines Tigers, einer Spinne oder einer Fledermaus. Mit dem VR-System übertrugen sie die Bewegungen des menschlichen Körpers so genau wie möglich auf das VR-Tier. In einem digitalen Zoo konnten sich die Probanden als Tierkörper im Spiegel betrachten und ihre Bewegungsfähigkeit testen.
Das Ganzkörpertracking ist besonders immersiv, dafür aber auch anstrengender. Bild: Universität Duisburg-Essen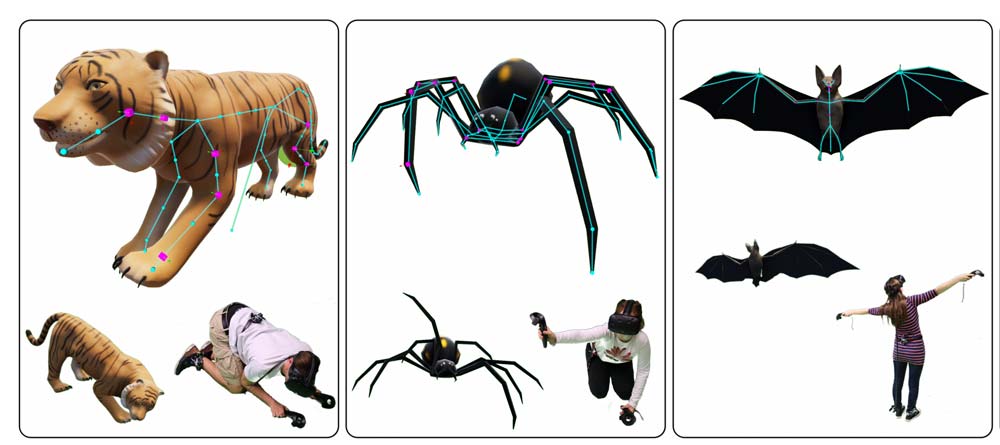 Die Forscher testeten zwei unterschiedliche Eingabeschemata aus der Ich-Perspektive: Die Körper der Testpersonen wurde entweder vollständig aufs VR-Tier übertragen (FB) oder es wurden – für weniger körperlichen Aufwand – nur die Beine von Mensch und Tier synchronisiert. Letztgenannte Eingabemethode ergab nur bei Spinne und Tiger Sinn, nicht bei der Fledermaus.
Das Ergebnis: Die Illusion, in einem fremden Körper zu stecken, funktioniert bei Tierkörpern ähnlich gut wie bei einem menschlichen Avatar. Sogar bei der Spinne, die eine vollkommen andere Skelettstruktur besitzt als der Mensch.
"Unsere Arbeit liefert einen überzeugenden Beweis dafür, dass tierische Avatare mithalten und sogar die humanoide Darstellung übertreffen können", schreiben die Forscher.

Die Akzeptanz (links) zeigt, wie überzeugend die Körperillusion wirkt. Die Kontrolle (mitte) beschreibt, wie gut er sich steuern lässt. Change beschreibt Veränderungen in der Selbstwarnehmung – der echte Körper in einer neuen Form. Bild: Universität Duisburg-Essen

In einigen Fällen schlägt der Tieravatar sogar den menschlichen Avatar: In Flugszenarien zum Beispiel ist die Fledermaus vorne. In der Verkörperung von Flugtieren sehen die Forscher daher besonders großes Potenzial für Bildung und Spiele.
Quelle:
https://arxiv.org/abs/1907.05220
Foto: Universität Duisburg-Essen; Andrey Krekhov, Sebastian Cmentowski, Jens Krüger