A lot of my job involves public speaking…but it can still be nerve wracking gearing up for a big presentation in front of an audience. Imagine how daunting that can feel if you're just starting out in the world of work.
And yet more and more employers are calling for skills just like these, so how do we give our students a head start?
A new pilot project at Morley's North Kensington Centre for Skills promises to use virtual reality to provide a safe yet immersive environment for students to practice these key skills…from public speaking to interviewing to embracing diversity and calling out instances where there's a lack of respect in the office.
The virtual experience
I had the chance today to roadtest the technology, which Morley will make available to a limited number of NK-based students over the coming weeks as we explore its potential to deliver the skills employers are looking for.
The experience starts with donning the futuristic gear: a headset that immerses you in a digital world, a pair of headphones, and two devices that you hold to control your virtual hands.
Momentarily it's disorienting, but you soon get used to it: a 360-degree virtual office, presentation hall or any other professional environment peopled by virtual colleagues with your own avatar hands and arms reaching out before you.
I tested a few scenarios.
First I was asked to observe a conversation and use my digital forefinger every time I picked up an instance of sexism in the conversation.
Afterwards I could explore the themes I'd picked up on – interrupting, minimising, belittling – and instantly zip back through the conversation to verify my answers.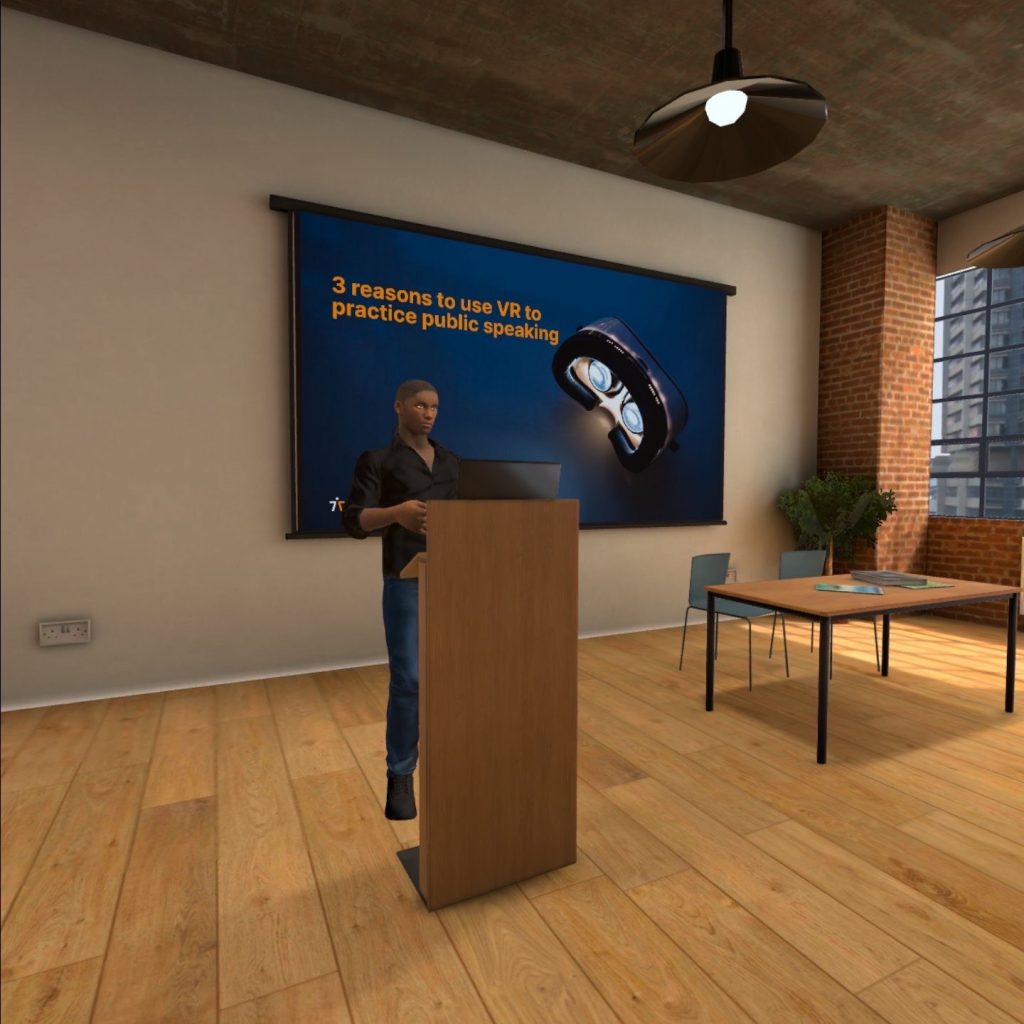 Next up, a more interactive challenge – I had to deliver a presentation to a virtual audience. Literally speaking out loud, gesturing with my hands, maintaining eye contact with the audience.
The technical wizardry gave me an instant readout on how I'd done and – rather unnervingly – played back my performance via an avatar that I watched as my own voice filled my ears.
I scored well on speed of delivery, eye contact, 'joining words'…but was told to up my game on hand movements and gesticulation.
Lessons learned for my next virtual experience – this time a job interview, where thankfully my handiwork got better marks.
I'm told that developments in artificial intelligence (AI) are continuously making this kind of interaction even more useful, with software able to provide personalised feedback based on the inputs from the user.
The real-world impact
I spoke with Elyse Stokley, Customer Success Executive at Bodyswaps, who explained more: "Bodyswaps is an award-winning, immersive platform that brings realistic simulations and AI-enabled feedback to soft skills training. Students can practise and fail safely without repercussions while building the communication, teamwork and leadership skills needed for successful careers."
Vusa Nkomo, Morley's Head of Student Services, said: "We're working with Bodyswaps here at North Kensington to pilot how we might use VR and AI to engage students in really building the skills that we know employers look for.
"I'm really excited to see how our students react to this cutting edge style of learning, which I know will complement the teaching we do here in the classroom and the other forms of learning that Morley is so passionate about, whether that's creating a podcast or curating an exhibition."
Quelle: