2022 the Year of Immersive Learning (VR/AR)?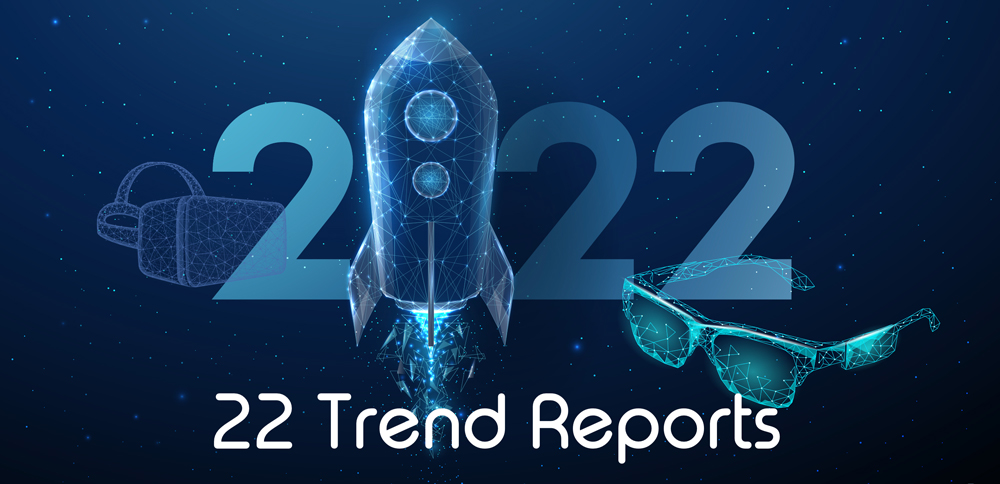 i analyzed and compiled the current blog articles on the topic of learning / HR / R&D with regard to statements on the topic of VR / AR-Learning. Will 2022 be the year of Immersive Learning? Apparently it is at least increasingly one of the trend topics in the field of Learning and HR/R&D. Many articles have included the topic in their TOP topics for 2022. It remains to be seen how companies and educational institutions handle it. It is definitely a good development that the topic is now an issue and can be highlighted and gained in perception.
1. Top eLearning Trends for 2022
…
· Immersive Technologies
Along with artificial intelligence, immersive learning has shown tremendous potential in the eLearning kaleidoscope. It includes augmented reality (AR), virtual reality (VR), and extended reality (XR). It is predicted that 23 million jobs will use VR and AR by 2030 and can give a boost of £1.4 trillion to the global economy.
Immersive technologies create a learning environment using AR and VR devices to provide learners with an artificially generated space that is very costly and difficult to create in reality. It helps in minimizing the gap between theory and practical applications; ultimately leading to the development of promising solutions.
…
2. The Top Learning and Development Trends in 2022
https://www.designingdigitally.com/blog/2021/09/top-learning-and-development-trends-2022
…
4. AR, VR, microlearning, and other online training methods
There's an extensive selection of online training delivery methods, and each business can use one or more to encourage overall growth. Microlearning, serious games, gamification, and simulation training are all used to onboard, train, and advance employee skills and knowledge. Augmented Reality (AR) and Virtual Reality (VR) are also gaining popularity with the development of new immersive technology.
…
3.eLearning Trends To Watch Out For In 2022
https://elearningindustry.com/elearning-trends-to-watch-out-for-in-2022
…
Virtual Reality And Mixed Reality Learning Experiences
Learners are demanding better learning experiences all the time. What better than Virtual Reality, which takes learners into a different world altogether? Virtual Reality helps learners immerse themselves deeply into learning, and that's why it's a popular trend.
One of the most important factors for successful learner engagement is the immersiveness and stickiness factor. Virtual Reality provides that. To cite a recent example, during the 2021 Olympics, a variety of VR-based experiences were provided to the public. This included people experiencing the playing style of various athletes on their smartphones. The experience was thrilling, to say the least, as people saw the mascots of athletes playing right in their living room.
In a nutshell, organizations will try to implement such VR experiences to teach various subjects to their learners. Based on the increased adoptions and good business cases, the use of VR will continue to grow in 2022, and even stronger in the coming years.
…
4. How to transform your business with the AR/ VR Trend in 2022?
https://www.linkedin.com/pulse/how-transform-your-business-ar-vr-trend-2022-inna-strelets/
…
6. Incorporation of AR/VR in education
Advanced VR and AR capabilities will help educators create engaging learning content and make the learning experience fun. This will increase the likelihood of distance learners learning in VR classrooms, ensuring they don't miss out on the benefits of learning in a classroom setting.
…
5. 10 Online Learning Trends for 2022
https://www.eduflow.com/blog/10-online-learning-trends-for-2022-according-to-dr-luke-hobson-and-professor-peter-shea
…
Online Learning Trend 1: Learners As Humans
The new technologies and content delivery methods we adopted during the pandemic are here to stay. But we need to bring the human experience of learning back into focus in 2022. That means prioritizing the learner experience over the convenience of new technology, and having honest conversations about learners' mental well-being.
Luke recommends we do this in two ways:
1. Building periodic instructor-learner check-ins into the structure of courses. These can either take the form of written updates, or video check-ins, and should ask learners to share how they are, and what they've learned from the course over the last week.
2. Find creative ways to help students feel less awkward on camera. Allow them to use avatars, bring some humor into the classroom. Students and instructors can design avatars on platforms like ReadyPlayerMe.
This may feel awkward at first, admits Luke. But the results can be transformative. Meaningful relationships come out of helping students feel comfortable, and you'll be able to support learners better throughout their online education.
…
Online Learning Trend 3: Extended Reality (XR)
First, there was AR, then MR, VR, and now XR. XR, or Extended Reality, is a term used to capture all the previous 'realities'—augmented reality, mixed reality, virtual reality—under one umbrella. XR describes a virtual space that 'extends' the real world with digital materials.
Sounds confusing, but Luke walked us through some examples in our webinar.
• Facebook's Metaverse, an 'embodied' internet in which we inhabit a shared digital space via an Oculus headset. The Metaverse looks a bit like a video game, but instead of playing against the computer, you interact with real people in real-time, in a shared virtual space.
• Kaiser Permanente Bernard J. Tyson School of Medicine's use of virtual 3D cadavers. During the pandemic, students at the school started performing digital dissections on 3D cadavers at touch-screen workstations. They used augmented reality headsets to practice ultrasound imaging and interpretation with the 3D bodies.
Leveraging XR may feel futuristic right now, but Luke insists that it may be as simple as scanning your desk space into an Oculus headset and starting to give classes in the new extended learning reality.
…
6. Emerging Education Trends to Look Out for in 2022
…
3. Immersive Learning with VR/AR
VR/AR technology is mostly known for its fun and interactive games in the educational sector. However, it is not just confined to that. A journalist from the University of Maryland writes that this technology can prove wonders with a student's attention span.
This technology helps students to eliminate distractions and immerse themselves in their work. It's also a very handy tool for students with ADD/ADHD, since VR equipment has the ability to fully immerse the user in its digital landscape.
Apart from that, AR technology allows a breath of fresh air, a new light to see the world to students. This technology is a great way to provide novel insights to students.
…
7. Top 6 EdTech Trends To Watch In 2022
…
Virtual Reality (VR)
VR is one of the most trending topics in EdTech for 2021. Companies like Apple are already making strides in integrating virtual reality facilities into their products to create a completely immersive experience for users.
Virtual reality can help solve educational problems, especially with math and science courses that require students to visualize concepts in a 3D environment for better understanding. Virtual reality has also been proven to help reduce learning anxiety for students and help visual learners grasp concepts better.
…
Augmented Reality (AR) in Education
AR is a technology that superimposes digitally generated images over real-world images. It will play a huge role in education, especially concerning hands-on learning and experiential learning methods. Many EdTech companies are already using it to develop interactive learning apps and games for students.
AR apps help students learn Aurasma, an augmented reality-based eLearning solution that helps teachers and students engage in a collaborative learning process. This type of learning is especially useful to visualize artefacts, historical places, etc.
…
8. eLearning Trends in 2021/22 that are Here to Stay
…
Upcoming eLearning industry trends for 2022:
VR and AI Instruction: Virtual Reality (VR) and Artificial Intelligence (AI) are gaining popularity in eLearning, empowering users by giving them personalized learning paths and the power to make decisions while they learn. Professionals note additional benefits they have for employee training, as well as report them as effective tools for reducing work-related injuries by 43%.
…
9. 5 Hottest EdTech Trends For 2022
https://www.businessbecause.com/news/online-mba/7908/edtech-trends-2022?sponsored
…
1. Virtual Reality & Augmented Reality
VR technology enables students to learn more materials faster, according to a recent study by PwC.
As edtech tools like video conferencing software become more versatile and incorporate aspects of VR and AR, it will become easier to bring learning experiences to life.
"Our students are desperate for access to experts or more situations where they can get involved in things." Traditional case studies, for example, can be transformed by VR, says Andrew.
As business schools across the world look to tap into the latest edtech trends, Andrew too is looking to integrate VR and AR into the Birmingham Online MBA.
"If I want to go and visit a factory and walk through it, the technology is getting there now when you can go and do that without ever leaving your desk."
…
10.Key HR Trends for 2022 and Beyond
…
VR Training
VR training is a game changer in the workplace. It is immersive enough for workers to take training seriously, but also creates a sense of privacy where workers who are more self-conscious can speak freely to their trainers. By 2022, VR in enterprise training market is estimated to peak $6.3 billion. If trends continue, we can expect VR training to replace traditional training methods in industries, such as retail, insurance, customer service, and safety training.
VR training was beginning to catch on before the coronavirus pandemic, but the recent shift towards remote work has fast-tracked its role in the modern workplace. A growing number of companies are looking towards VR to train employees safely, effectively and efficiently.
…
11. Trends Transforming The Augmented and VR Industry in 2022
…
Impact On Training & Teaching
Both of the technologies have apparent benefits for teaching and training, with this being seen across schools and professional development courses. For example, people studying construction or any hazardous or complex areas can train without any of the risks that are typically involved with them.
By using VR, budding professionals in these industries will be able to train in a simulated environment that provides a significant degree of accuracy while avoiding the risks associated with making a mistake.
AR can also be a benefit, as employees will be able to practice objectives and tasks in real-time, which could improve their skills and overall productivity. These are areas that look to benefit further from the technologies in the future.
…
12. 2022 Online Training Trends: What to Expect in Safety and Beyond
https://safetyskills.com/2022-online-training-trends/
…
Immersive tech
While you may not have heard of immersive tech, you likely recognize its two main forms:virtual reality (VR) and augmented reality (AR). Simply put, VR uses computer-generated information, or CGI, to provide a sense of full immersion into an experience, while AR blends CGI into the real environment. Both have been around for decades but started gaining mainstream popularity around 2017 and now offer immense benefits to safety training.
For example, VR can be used when training employees on finding defects in required PPE. In a virtual setting, you don't need to keep faulty equipment around, but employees can still gain that "hands-on" experience. Similarly, an AR overlay can be used on a construction site to see if workers can identify potential safety hazards without having to actually put themselves or others in danger on an active site.
…
13. The Top 10 AR/VR Trends to Watch Out In 2021–2022
https://medium.com/the-enterprise-diary/the-top-10-ar-vr-trends-to-watch-out-in-2021-2022-718c05c03746
…
10. Artificial and virtual reality in education
As artificial and virtual reality have found their way into numerous industries such as gaming, retail, and entertainment, the education sector has seen the most noticeable rise. Teachers will be able to engage pupils with learning material in new and more elaborative ways because of VR technology's immersive capabilities. Students that are distance learners would profit from this, as they will not miss any classes. In addition, augmented reality will assist students in honing their abilities while also allowing them to focus on their jobs.
…
14. Online Education Trends: eLearning Predictions for 2021-2022
…
IMMERSIVE LEARNING WITH EXTENDED REALITY (XR)
23 million jobs by 2030 will use virtual reality and augmented reality, according to the PWC report. The immersive technology being among e-learning future trends is globally adapted to enhance training and improve the way organizations operate, as stated by Jeremy Dalton, Head of VR and AR, PwC UK. Also, 5G integration into learning systems plays a significant role in replicating nearly any real situation.
The linchpin here is an XR technology as a transportation enabler to environments impossible to be seen in a physical world like the inside of a human heart or lungs, firefighting, historical events immerse, etc. In particular, VR medical simulation by SimX, native scenarios for emergency first responders by FLAME, and safe driving training from UPS Training Academy allow students to have a more vivid experience stimulating the highest engagement rates, retention, and practice performance.
…
15. TOP 6 AUGMENTED REALITY TRENDS TO WATCH OUT FOR IN 2022
https://skywell.software/blog/augmented-reality-trends/
…
6 Augmented Reality Trends to Watch Out for in 2022 . AR for Immersive Employee Training
One of the most interesting uses of augmented reality trends in education is their impact on employee training. In the workplace, AR can enhance the learning and comprehension of both apprentices and long-term employees alike. Furthermore, AR can help to promote more employee engagement and safety awareness – helping to ease the costs of training while lowering learning curves along the way.
Many of us naturally learn best by doing actions and physically doing things instead of watching and learning. AR provides the opportunity for hands-on learning in a structured and interactive way. With physical devices, new employees can practice job activities at their own pace without any pressure or danger attached to making the wrong move.
Also, there can be an element of danger attached to making a poor decision in some industries, and hands-on training environments can often still carry some danger. However, with augmented reality, trainees can practice tasks without the risk of injury to themselves or those around them.
…
17. Future Of Virtual Reality – Market Trends And Challenges
…
#1) Learning, Training, and Treatments in VR/AR
The below image depicts the VR/AR users graph in the USA.
Currently, usage of mixed reality is increasing in healthcare, education, shopping, and tourism industries in the recent past, even during coronavirus pandemic. For instance, in healthcare, it is being trialed or implemented in virtual-home-based therapy and surgery. In this case, it is being used alongside other technologies such as video, sensors, and monitors.
Virtual reality could be adopted largely in treating patients with phobias and anxiety disorders. It is used in therapy for people with autism to help them develop social and communication skills. Eye-tracking technologies based on AR and VR are employed in the diagnoses of patients with visual or cognitive impairments.
In education and training, remote VR and AR training systems are being increasingly employed during COVID-19 outbreak even as lockdowns or partial economic inactivity continues. The same is happening in the field of tourism.
The merger of artificial intelligence, augmented reality, and virtual reality will enhance the customization of VR and AR content as the customers would like. That said, about 30 million people will use VR in the USA in the year 2021, according to a survey by eMarketer.
…
18. THE TOP LEARNING AND DEVELOPMENT TRENDS IN 2022
https://www.designingdigitally.com/blog/2021/09/top-learning-and-development-trends-2022
…
AR, VR, microlearning, and other online training methods
There's an extensive selection of online training delivery methods, and each business can use one or more to encourage overall growth. Microlearning, serious games, gamification, and simulation training are all used to onboard, train, and advance employee skills and knowledge. Augmented Reality (AR) and Virtual Reality (VR) are also gaining popularity with the development of new immersive technology.
…
19. Trends 2022: Sind AR, VR und Digital Twin die Zukunft?
https://logistra.de/news/nfz-fuhrpark-lagerlogistik-intralogistik-trends-2022-sind-ar-vr-und-digital-twin-die-zukunft-100462.html
…
Erleichterung im Arbeitsalltag durch Augmented Reality
Im Gegensatz zu VR-Technologien funktioniert Augmented Reality (AR) zwar ebenfalls überwiegend visuell, jedoch werden dem Nutzer durch eine AR-Brille oder einem externen Display weitere Informationen eingeblendet. Diese helfen Anwendern beispielsweise bei komplexen Aufgaben, indem die einzelnen Schritte digital in ihr Sichtfeld projiziert wird. Mithilfe von Sprache, Knöpfen, Eye-Tracking oder Gesten lassen sich AR Displays steuern. Das trifft zum Beispiel auf die HoloLens von Microsoft zu. Dieses bietet dem Mitarbeiter eine wichtige Hilfestellung im Arbeitsalltag.So betrachtet, steht zu erwarten, dass AR im Jahr 2022 weiteren Boden gut machen könnte – und zwar durchaus auch in der Logistik- und Prozessindustrie. Denn sie vereinfacht und beschleunigt komplexe Arbeitsabläufe. Aus naheliegenden Gründen bieten sowohl VR als auch AR erhebliches Potenzial in Sachen Schulungen und Simulationen.
…
20. Top AR Trends to Watch in 2022
https://www.iboson.io/top-augmented-reality-trends-in-2022
…
1. Augmented User Manuals
Augmented reality user manuals come as a replacement for printed manuals that are too complex and lack good visuals. AR manuals enable the user to point their camera at any device and get 3D visuals on how to solve a problem. Buyers who find reading texts tedious or workers who need assistance fixing a problem find AR manuals experience enjoyable and easy to follow.
…
21. Training Trends For 2022
https://www.trainthecrowd.com/training-trends-for-2022/
…
Augment Reality and Virtual Reality won't just be for video games 
The way we are consuming content is changing. Did you know that humans now only have an attention span of 8 seconds? (Augmented Reality) AR and (Virtual Reality) VR have been around for a while for gamers but with the likes of Mark Zuckerberg talking about the metaverse, AR and VR are likely to go mainstream. With so many people working from home, we'll see an extended selection of training delivery methods including AR and VR:
"AR and VR are growing in popularity and with the announcement of the "Metaverse" from Facebook, we'll see many businesses create more online interactions and develop new immersive technologies. With the recent changes to working from home and remote study, businesses will be encouraged to look towards other online training delivery methods. I think we can expect to see gamification and simulation training used to onboard and train employees, says Training Consultant", Phillip Chan.
…
22. The Top 8 Elearning Trends To Watch Out For In 2022
https://www.thelearning-lab.com/blog-elearning-lms-platform/the-top-8-elearning-trends-to-watch-out-for-in-2022
…
Augmented Reality
Several experts called out Augmented Reality (AR) as a major trend that will infiltrate the eLearning industry in the coming years. The technology has been around for quite some time, but it's still making its way into mainstream applications and programs.
AR helps users learn how to use new technology or software tools, by allowing them to view how it all works. Some industry leaders mentioned that consumer-facing applications like Snapchat are making AR more accessible to average consumers who can then see how AR works and might be inspired to apply it in their day-to-day lives as well.
This could lead to an increased interest in learning programs that incorporate AR elements, which could help drive adoption of eLearning software and platforms into schools around the world.
…
Virtual Reality
VR is at a critical point and likely to evolve quickly. We've already seen some big companies announce their VR plans, and it's only a matter of time before we see an explosion of content.
It's still early days for VR, but there are already some great learning experiences being built with VR technology. Educators should pay attention as these new tools become more accessible and discover how they can integrate them into their classrooms to expand learning opportunities for students.
While tools like VR are great for learners, educators need to continue focusing on higher-level objectives beyond simply getting people immersed in a simulated environment.
Virtual reality may offer many possibilities for eLearning development over the next decade.
…
The future is virtual, immersive and personalized. Think about how technologies like augmented reality, artificial intelligence and Internet of Things (IoT) have already entered our daily lives and changed how we shop, socialize and travel.
and One more Things…
23. Four Trends to Watch Out for in Education in 2022
…
Augmented and Virtual Reality in Education
The two years of the pandemic has ensured that online education is here to stay. With that established, more innovations will take place to improve the online learning experience. With the introduction of Augmented and virtual reality in education, virtual learning will be as impactful as offline learning.
The year 2021 had a large virtual format, almost real, like platforms for hosting school events. With the coming of metaverse events, the online classroom will look more real than ever. One can be both offline and online at the same time, leading to a surreal learning experience.
…
24. 7 E-Learning Trends for 2022
Immersive Learning Experiences
Immersive training usually refers to the use of virtual reality (VR), augmented reality (AR), and mixed reality (MR). These extended reality (XR) technologies are becoming an increasing feature in corporate training as they can bring the learner closer to the topic in an environment that is completely safe.
Personalised training, branching scenarios, and interactive videos are other methods that can be used to make e-learning courses more immersive for the learner.
…