Start VR, an independent, award-winning immersive studio, has launched a ground-breaking virtual reality first aid training service called "SJx". Specifically designed for the medical non-profit St John Ambulance Victoria, this interactive virtual reality (VR) solution reduces the training time by 75%, enabling anyone to receive the life-saving certification within only one hour.
SJx offers businesses and organizations a portable VR-based training technology, along with an immersive projection-based group training solution for groups of up to 20 people that allows the students to take the assessment from their own smartphone. Not only does the bring-your-own-device functionality allow for a faster assessment, but it also makes the training more engaging and interactive. Added to that, the real-life simulation of a medical emergency with various stages of CPR ensures that students are confronted with more practical, rather than theoretical knowledge. In fact, thanks to the optimization with Oculus Go headsets, students can identify hazardous objects around them, make time-critical decisions, and even engage with their environment.
The training experience was built on Start VR's internally developed  Startgate XR publishing platform. Stargate XR provides synchronized media management, analytics, and the remote management of the content transmitted to the most popular VR and AR headsets. Specifically, the SJx solution was designed to contain several features, including a student application that delivers interactive content and assessment, together with large format projectors to immerse groups. It also contains an in-built trainer app that manages student attendance and assessment, synchronizes media playback and ensures a simple and elegant roll-out of the training.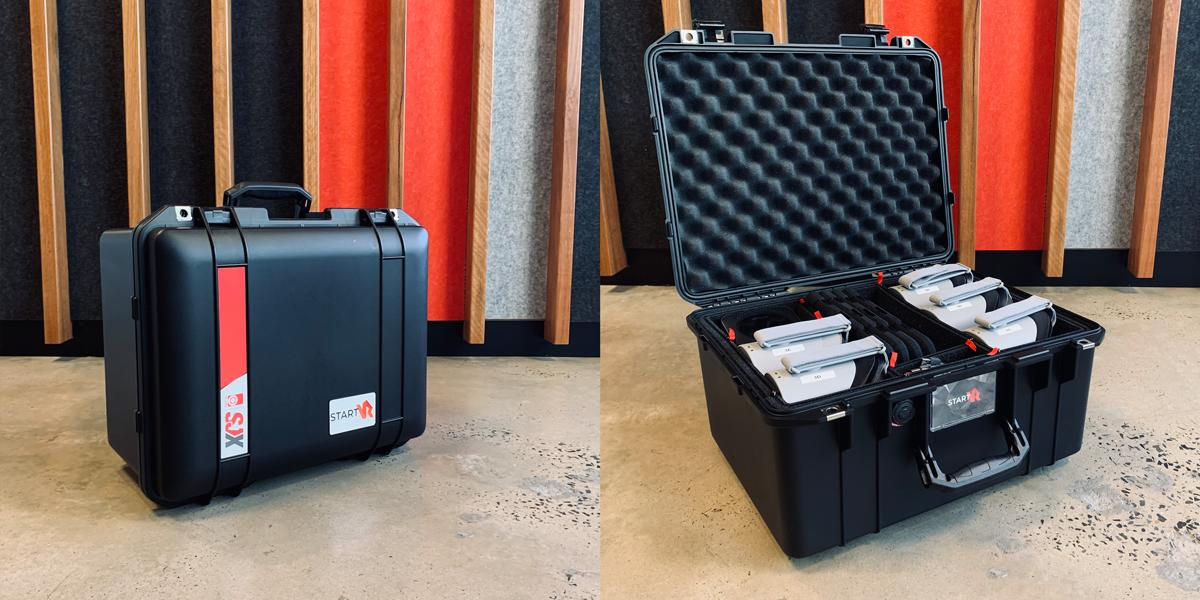 Image: The entire SJx portable kit delivering the training.
According to Kain Tietzel, CEO of Start VR, the collaboration with St John Ambulance Victoria is one of the first in the world to utilize a portable high impact VR learning solution. "We're seeing ever-increasing investment and activity from our HR & training customers as they move from pilot programs to fully deployed VR solutions. St John Ambulance Victoria is taking it to the next level by delivering a portable solution that ensures consistent premium training experiences, which are more efficient and economical. This life-saving training solution enables businesses to train their staff on-site and reach remote and busy communities who would otherwise find it difficult to receive training."
Gordon Botwright, the CEO of St John Ambulance Victoria, said: "With thousands of people dying from cardiac arrest each year, it's crucial that we make the process of first aid training more accessible. Using Start VR's invaluable expertise in virtual reality, we are able to ensure our students receive the highest quality learning experience while significantly cutting down the time it takes to deliver a market-leading first aid course in Australia. We are excited to pave the way for a new evolution of first aid training in Australia to improve cardiac arrest response times and ultimately, survival rates."
Disclosure: This article includes a client of an Espacio portfolio company
Quelle:
Foto: Example of VR medical emergency simulation with real-time training guidance.
Accessible Virtual Reality First-Aid Training Technology Developed by Australian Company