The new year will see the mainstream adoption of virtual reality across many industries.
A new generation of reality-bending learning simulations is unleashing a wave of experiential and visceral learning we once could only dream about. Virtual reality allows students to move seamlessly from the workplace to a pixelated practice space where they can build muscle memory and mastery in the presence of peers, mentors and experts. After a banner year in 2022, with more than 20 million Meta Quest VR headsets sold cumulatively, the new year is poised to be a breakout year for VR training. Let's review the six biggest VR trends of 2023.
From video to real-time rendering
In the early days of VR, many training departments shot 360-degree videos for soft skills training. It was cheap and easy to produce, but lacked the magic of presence. Now we know better.
VR is not a spherical movie screen; it's a holodeck, taking the learners through the frame, into a three-dimensional and immersive world. Creating a sense of "presence," a feeling of going to another place, requires computer-generated scenes. Simulations developed in real-time game engines allow users to walk around and reach out with their hands to interact with the environment, just like in real life. Developing these workplace simulacra requires a studio that marries the artistry and tech wizardry of VR and game development with the vibrant science of learning design.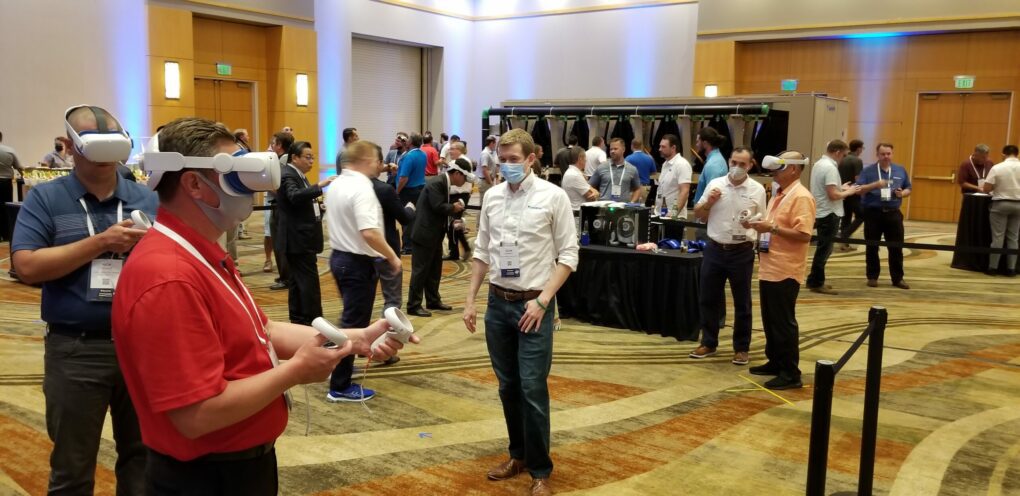 Case in point: HVAC leader Daikin Applied partnered with my firm, the Gronstedt Group, to develop an immersive experience with an "X-ray" vision inside its giant equipment to visualize competitive differentiators.
From training apps to cross-functional programs
While real-time rendered VR can be more expensive up front, it's an infinitely malleable and scalable investment that can be amortized over many years and numerous business functions and applications. Training departments need to take a cross-functional approach to build the business case.
Daikin aligns its enterprise metaverse strategy with sales and marketing. Together they built a VR experience that simultaneously offers a successful marketing tool at events, a venue for sales meetings and a customer education platform. In fact, Daikin's finance leaders have agreed to capitalize the expense in recognition of the long-term viability of VR as both a training and sales enablement tool.
From device dependence to cross-play
A VR investment can be leveraged to a vast array of platforms, giving everyone a portal to the digital world: from the complete presence of a VR headset to the convenience of mobile phones and iPads.
From single to multi-player
The early VR training programs were lonely. In the new year you will have company. The new-gen VR sims are multiplayer experiences that offer the sensation of "social presence." Working shoulder-to-shoulder with colleagues appearing as avatars, students can conduct collaborative tasks, hand each other equipment and inspect each other's work, for instance. Daikin sales reps meet up with customers from all over the world and poke their heads inside their giant industrial chillers to watch the inner workings from any angle during their conversations.
From pilots to enterprise deployment
This will be the year when many training organizations escape "pilot purgatory" to deploy VR enterprise-wide. The IT plumbing is coming into place. Meta/Facebook's "Quest for Business" subscription bundle includes the kind of admin and security features to manage VR headsets and content remotely that you expect from PCs and mobile devices.
A surprising spirit of cooperation reigns in the nascent VR world. The "OpenXR" standard allows VR programs to run on all headsets. Microsoft just announced that it will give Quest users access to its Windows operating system, as well as its business-focused apps, Teams, Intune and Azure Active Directory. Reporting student data via xAPI calls from VR to LRS and LMS is now standard practice. The new year will see the breakdown of tech barriers to enterprise VR deployment.
From virtual to mixed reality
A new class of "mixed reality" headsets will launch in 2023, promising to break the barriers between the real and virtual worlds. Meta launched a developer version of this technology a few months ago called "Quest Pro," which superimposes computer-generated images into the real world around us. The mass-market version of this headset, Quest 3, will hit the shelves this fall for $400. Meanwhile, Apple is rumored to finally premiere a more premium mixed reality headset this spring. This can be an important step toward a vision of true augmented reality glasses that is still years away.
The new year will see the mainstream adoption of VR for safety, equipment operations and service, logistics, manufacturing, emergency response and health care training. Other applications will take several more years to mature. Current XR technology is not ripe for soft skills training, IT systems training, conferences and all-purpose collaboration (Meta can't even get its own employees to hold regular meetings in VR). Procedural hands-on training simulations will be the edge of the new frontier of XR learning in the new year.
Quelle: