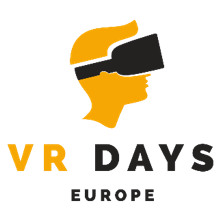 XR Enterprise Summit at VR Days Europe to focus on training and productivity
The XR Enterprise Summit is one of three market-specific summits being hosted during VR Days Europe 2018, which takes place in Amsterdam from 24 to 26 October. Each summit will feature presentations from leading VR experts, panel discussions and roundtables.
Running between 10:00 and 17:00 on Thursday 25 October in the Kromhouthal, the XR Enterprise Summit will take 'Training and Productivity' as its theme.
Why use VR in training?
The original flight simulator, patented nearly 90 years ago, is seen by many as an early example of the use virtual reality in training – and applications for technology have broadened into the hundreds since then. Many of these applications are for occupations with an element of danger – such as soldiers, pilots, surgeons and police officers – but there are also countless ways in which VR can be used to improve the cognitive skills we use in everyday life. Negotiation, public speaking, carpentry, machine repair, dance, sports, musical instruction – almost any skill can conceivably be improved through virtual instruction.
There's no doubt that VR is a highly effective medium for training. Studies conducted by Jeremy Bailenson at Stanford in 2005 showed that VR-based training, even with the limitations of the rendering systems available then, produced better learning of physical movements by 25% compared with a two-dimensional video. Small wonder, then, that VR has overtaken video as the most effective means of training in physical activities. But its potential applications are far broader.
The market for virtual training and simulation is expected to be worth $329 billion by 2022, representing a CAGR of 16.8% during the forecast period 2016-22.
Why attend?
XR Enterprise Summit attendees can learn what the latest research findings tell us about the effectiveness of VR in training. Through case studies, they can also find out about how the technology is being deployed in sectors as diverse as industry, police and defence work, healthcare and others.
Who should attend?
HR professionals
Training consultants
Developers of training
Corporate training budget holders
What's on the programme?
The programme, which has been developed with curation partner Laurent Chrétien of Laval Virtual, will consist of more than ten presentations, a panel discussion and three roundtables.
Presentations will include:
Enhance Human Mental Capacity beyond Real-Life Performance with VR/AR Technologies – Miriam Reiner, Technion
Crime Scene Investigation in VR – Mike Ferguson, Defence, Science and Technology Laboratory
XR for Enterprise: Is Your Company Ready? – Amy Peck, EndeavorVR
Disrupt and Add Value: VR Training on the Rise – Jason Fraser, HP
Maximising Enterprise Success with XR Technologies – Gary Radburn, Dell
And more
Panel discussion – Driving XR Innovation in Defence and Police
Who says innovation is only for start-ups? Is it now destiny that large organisations will be dull and slow-moving and that all the exciting stuff will be done by small, agile start-ups? Fostering innovation is key in strengthening Europe's defence capabilities – as has been clearly stated in the new EU Global Strategy (EUGS). One of the problems that many large organisations face is how to innovate successfully within the confines of a massive, bureaucratic operational structure. Whenever possible, they need to change from decision-making by bureaucracy, persuasion, position and power, to decision-making by experiment. How do they get all those barriers out of the way?
• Ewout van Dort, Royal Netherlands Army
• Mike Ferguson, Ministry of Defence UK, Defence, Science and Technology Laboratory
• Ronald Christiaans, Dutch National Police Force
Roundtables
How to Manage Innovation in Defence or Police
One of the problems that many large organisations face is how to innovate successfully within the confines of a massive, bureaucratic operational structure. But fostering innovation is key in strengthening Europe's defence capabilities – as has been clearly stated in the new EU Global Strategy (EUGS). It is said that when it comes to innovation in large organisations, the best thing you can do is to 'think small'. Is that true? How do we build bridges between disruptive XR innovators and defence and police decision-makers? What can we do to stimulate collaboration and drive innovation forward?
Smart Cities: Build and Develop Cities with Immersive Technologies
One of the main components of the smart city concept is to make the urban environment more people centred. And that's where augmented reality comes into play. The technology won't only be applied to communication with the public. The planning process itself will be supported; with AR it will be possible to walk into a virtual representation of a planned building or extension, superimposed over the existing space.
VR could deliver experiences that rival face-to-face interaction, which could have massive consequences for cities. If light rail or other mass transit is being implemented in order to facilitate work commuters, and in 20 years only a fraction of the population actually physically commutes to work, are we wasting our money? These are questions we need to be asking now.
Maintenance and Training: Dedicated Solutions or Generic Tools?
The place of immersive technologies is no longer in question in the areas of training and maintenance. Numerous examples have shown us spectacular gains in terms of profitability and quality. The question that arises now is how these technologies will develop.
Will we see the proliferation of dedicated solutions, tailor made for a client? Or will we see a mass arrival of generic tools, including mainstream ARkit and ARcore? What are the distinguishing signs of this evolution? Where will specialised AR or VR providers stand?
All-access tickets for VR Days Europe 2018 are available for €299 ex VAT. For more information on the event, and to purchase tickets, please visit: www.vrdays.co
Additional information is available from:
Joe Hosken, Director of Content and Communications: jhosken@iseurope.org
Benjamin de Wit, Founder VR Days Europe: benjamin@vrdays.co
About VR Days Europe
VR Days is a leading business-to-business event for the professional virtual, augmented and mixed reality industries. It was established in 2015 as one of the first professional XR events in the world, establishing a prominent role in uniting the emerging community, inspiring creatives and innovators, and developing business opportunities. With substantial year-on-year growth, VR Days has grown to become THE European XR event. In 2017, VR Days entered into a partnership with Integrated Systems Events, allowing the event to leverage industry expertise in sales, operations, marketing and content development. This makes VR Days a truly international entity with a global reach. To learn more about VR Days Europe please visit, www.vrdays.co.
About Integrated Systems Events
Integrated Systems Events organises, manages and develops leading business-to-business events for the professional audiovisual, electronic systems integration and IT industries. Integrated Systems Events was established in 2003 as a joint venture of two trade associations CEDIA and AVIXA, and has grown every year since. With employees engaged in sales,operations, marketing and content development across Europe, we are a truly international company with an international reach. Our flagship event, Integrated Systems Europe, is the best-attended AV trade show anywhere in the world, attracting over 80,000 attendees and more than 1,200 exhibitors to its Amsterdam location every February. Visit www.isevents.org.